During Veteran's Day chapel this past November, MPCS Coach Connie Arnold described this special school-wide gathering as his "favorite day of the year." Coach Arnold then introduced guest speaker Mel Pender Jr., an 82-year old, spry veteran who had just celebrated his birthday the week before. Dr. Pender shared an especially moving and unifying message for the school community of students, staff, parents, grandparents, and friends in attendance.


A DESIRE FOR SERVICE, AN APTITUDE FOR ATHLETICS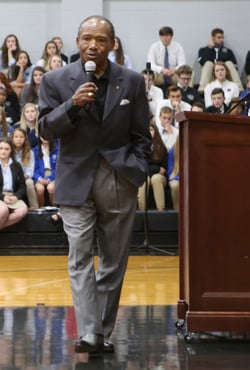 Dr. Pender - awarded an honorary doctorate from his undergraduate alma mater Adelphi University - was born at Grady Hospital in Atlanta and spent his earliest years in Dalton, Georgia, before his family moved to Atlanta. He had always wanted to serve in the military, his father having served in the Navy during World War II. Dr. Pender had even tried to enlist at the age of 15 but was denied. He later successfully enlisted at age 17 and began a long 21-year career with the U.S. Army, earning a Bronze Star and eventually retiring with the rank of Captain.

It was discovered that Dr. Pender had a natural aptitude for athletics, and he began running track at age 25. When he was 27, Dr. Pender was called upon to join the U.S. Olympic team, which he initially refused. He would eventually participate in the 1964, 1968, and 1972 games, earning a Gold medal in the relay and setting several world records. He also worked as a track shoe designer, was the first African American track coach at West Point, and served as the director of the Youth Development Program for the NFL Players' Association.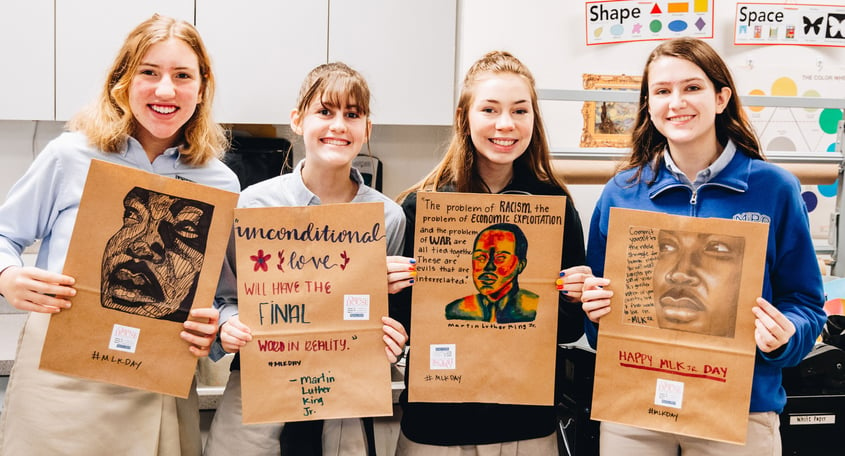 ONE PEOPLE, UNDER GOD
With a message for the MPCS community of unity and national pride, Dr. Pender offered life advice to the audience that his own grandfather had shared with him. We experience great privilege in America unlike anything seen anywhere else in the world, he shared. He challenged the "young people to make things better by coming together as one [people under God]." Having grown up in the segregated South, Dr. Pender experienced schools in Dekalb County with no running water and witnessed soldiers on Army trains separated by race. He asked his mother why things were this way. She told him one day change was going to come.
"We win; we can't be defeated," he said, "when we all come together as one people." When he served overseas, he said enemy bullets gave no regard to the color of a soldier's skin. The soldiers were all fighting the same war for the same country, and they all bled the same red blood. In an especially moving moment, Dr. Pender recalls praying to God while in a foxhole underneath a starry Vietnam sky, "God, please let me get home to see my family." In a heartbreaking moment, Dr. Pender recalled holding a young, white soldier in his arms as the young man died - "It didn't matter what color he was. He was American." He was able to get through it all because "God was on my side."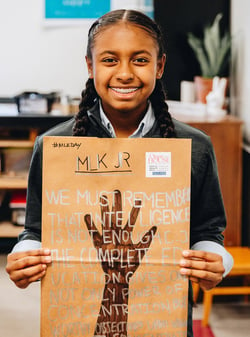 LOVE THE PERSON IN FRONT OF YOU
The cherished advice his grandfather shared was "Listen. Read. Do your arithmetic." And, he left the crowd with these final words: "Never Hate. Love Everyone." The crowd thanked him with a standing ovation.
MPCS Chief Financial Officer Julie Ray shared that, every year, the Veterans' Day Chapel "...has me in tears for how well it is done by all involved in making it happen and how meaningfully it impacts our community." She continued, "I also appreciate the way our students respond and the flags they fly. [What] an incredible and defining moment for our school!" After all, we are one people, under God's authority, grace, and love.