The summer of 2020 has certainly been one for the history books. From social distancing and uncertainty about the future, to calls for racial justice and reconciliation, 2020 has taken an emotional toll on much of our country. After too many months apart, the Mount Paran Christian School family rejoices in finally reuniting on campus for the start of a new academic year. As we do so, our school family brings great hope for the future, trusting in the One who knows all and who has a plan for us.
"For I know the plans I have for you," declares the Lord. "Plans to prosper you and not to harm you, plans to give you hope and a future." —Jeremiah 29:11 What Matters Most
To keep the MPCS family focused on what truly matters, the school has adopted a theme of "Love One Another" for the year. We are reminded of what God has to say about loving all people with daily visual reminders on display. As you enter campus, you are greeted with creativity and messages of unity with unique banners hung from the light posts spread throughout campus. Each banner was created by an MPCS high school visual art student and embodies their interpretation of a Bible verse, chosen from God's Word. Each distinct verse is inclusive of the diverse body of Christ and God's love for every one of us. His instruction is clear, and our call is to obey His commands in our treatment of His children. For us as a CommUNITY, what does "loving one another" look like in practice?


---
Let Your Light Shine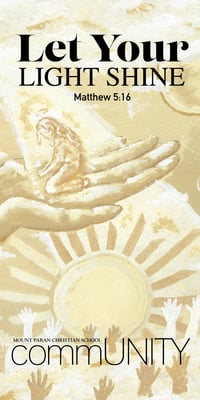 In the same way, let your light shine before others, that they may see your good deeds and glorify your Father in heaven. —Matthew 5:16

Each member of the MPCS CommUNITY proclaims Christ as Lord and Savior. Author Roald Dahl wrote, "If you have good thoughts they will shine out of your face like sunbeams and you will always look lovely." The same could be said of Christians — if we each remember to let the love of God fill our hearts, it will shine from our faces and attitudes, overflowing to those we meet.
Christ-followers are called to share the light that only comes from faith in our Creator. Let His light shine through you in your words and actions. In practice, this can include going about our days with joyful attitudes. Share a smile, say a prayer, hold a door, lend a hand. Spread kindness like confetti.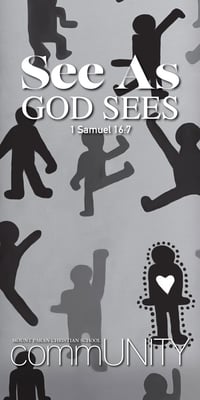 See As God Sees and ValueS Others
But the Lord said to Samuel, "Do not consider his appearance or his height, for I have rejected him. The Lord does not look at the things people look at. People look at the outward appearance, but the Lord looks at the heart." —1 Samuel 16:7
Do nothing out of selfish ambition or vain conceit. Rather, in humility value others above yourselves, not looking to your own interests but each of you to the interests of the others. —Philippians 2:3-4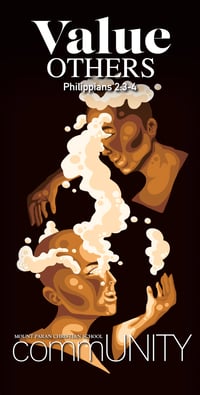 When our hearts are filled with the Holy Spirit and our heads are focused on God, we can begin to see the world as God sees. We look for the good in others. We no longer "judge the book by its cover." We get past the superficial and get to the heart of what matters: God created us as special, unique, and in His own image, each for a special purpose on earth. By recognizing the light within others, we can truly value them for who God made them to be.
When we see as God sees, our hearts turn towards service. We put others ahead of self. Instead of viewing competition as besting an opponent, we focus on doing all with excellence. We demonstrate good sportsmanship. We become better at lifting others up. We place value on every single one of God's children, celebrating our unique differences.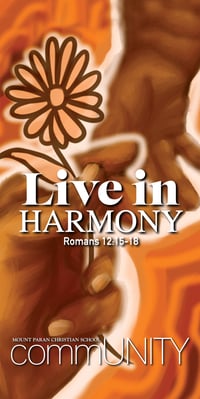 Live In Harmony
Rejoice with those who rejoice; mourn with those who mourn. Live in harmony with one another. Do not be proud, but be willing to associate with people of low position. Do not be conceited. Do not repay anyone evil for evil. Be careful to do what is right in the eyes of everyone. If it is possible, as far as it depends on you, live at peace with everyone. —Romans 12:15-18
When we value others, we prioritize making the effort to live in harmony with all of God's children. "People are hard to hate close up. Move in," says writer Brene Brown. Get to know others, most especially those who do not look, think, or speak as you do. When we open our minds to those who are different from ourselves, we begin to appreciate the diversity God intended for earth. And in turn, we can live side by side with peace and mutual respect.
Have Courage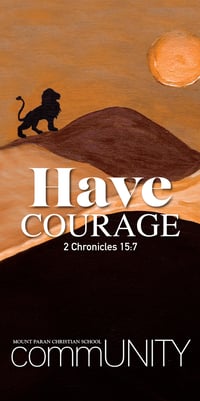 But as for you, be strong and do not give up, for your work will be rewarded.
—2 Chronicles 15:7
When you see something, say something. That's not just a safety precaution at the airport. It's good advice for living with courage. Too many times, good people ignore doing the right thing in the moment. We let slide an inappropriate joke, a stereotypical phrase, a demeaning comment. These little moments call for courage. Speak up and point out when words are harmful and not spoken in God's love. Stick up for a friend or person in need. Call out wrong-doing in the moment before the opportunity passes. Have the courage to be kind.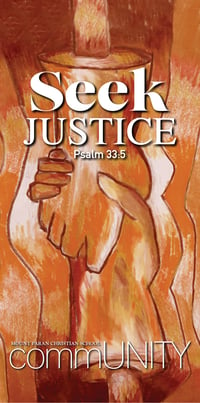 Seek Justice
The Lord loves righteousness and justice; the earth is full of his unfailing love. —Psalm 33:5
What young child does not demand a parent's justice when a toy has wrongfully been taken by another? When wrongs are done, they demand to be righted. Some in power have many times taken advantage of those without a voice. Jesus often demonstrated a dramatic shift of the power scales. "The last shall be first, and the first last: for many be called, but few chosen." (Matthew 20:16)
As Christians, we are called to help those who need it most, not just the widows and orphans, but all who are oppressed. Speak up. Be an ally. Donate time and treasures to groups that are working towards seeking justice for those in need. All the while, we can trust that, in the words of musician David Crosby, while there is no peace on earth, there remains peace in Christ. Love justice as the Lord commands us.
Be Compassionate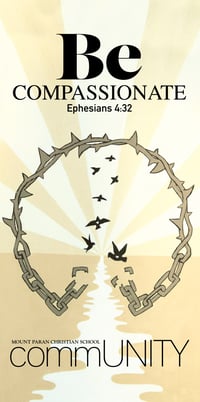 Be kind and compassionate to one another, forgiving each other, just as in Christ God forgave you. —Ephesians 4:32
Having compassion is a character-trait that Jesus demonstrated repetitively in the New Testament. God intentionally looked to the least in society and praised their belief and faith in Him. Kindness and compassion go hand-in-hand with forgiveness and demonstrating grace to those who may or may not deserve it.
It can be emotionally challenging to forgive, to let go of past hurts. But, God calls us to do just that. If you're struggling with anger or hurt, pray for God to help you forgive. Extend grace and forgiveness often. Assume positive intent, seeking to see the best in others.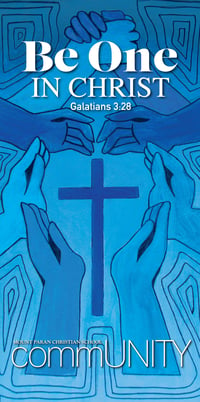 Be One in Christ and Stand Together
There is neither Jew nor Gentile, neither slave nor free, nor is there male and female, for you are all one in Christ Jesus. —Galatians 3:28
After this I looked, and there before me was a great multitude that no one could count, from every nation, tribe, people and language, standing before the throne and before the Lamb. —Revelation 7:9-17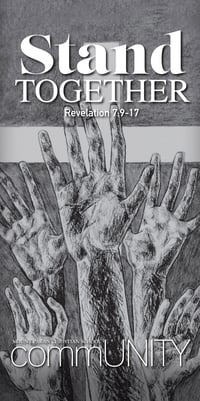 We are not the same. We each bring different experiences, problems, and talents. But, we are all one in the body of Christ. God sees us as one nationality, one race, one color, and one people united in His Kingdom.
God has brought us together for a special purpose at this time. He is calling Christians as one people to unite and stand together for good. Let's focus on doing His good works during this school year, bringing glory to Him while lifting one another up — despite our unique qualities — in full and loving support.
Love one Another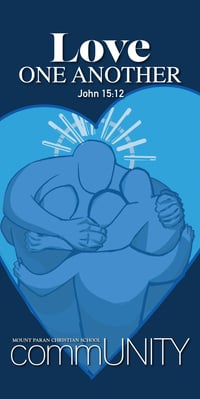 My command is this: Love each other as I have loved you. —John 15:12
Love Jesus. Love your neighbor. Love one another. It's the ten commandments summarized in such simple terms. So, why is it so hard to do? Because to love as God loves, we must let down our guards, drop our judgments, rid ourselves of hate, and seek the heart of Christ. No matter what our disagreements may be, we must learn to appreciate and love the person in front of us. For they are a child of God, as much as you are.
There is no telling what the future will bring. God only knows what lies ahead, and He is in full control. He is teaching us through conflict and conversation. Use these opportunities to expand your knowledge and grow in God's Word. If we trust in Him and lean on one another, we can be assured that all things will be worked out for good. So, MPCS CommUNITY, let us strive to do our best each day, to bring glory and honor to Him, and to truly love one another.
---


Special thanks to the MPCS high school visual artists who dedicated time over the summer to complete the CommUNITY Series banner works of art.
Love One Another – C. Monroe
Seek Justice – N. Roberts
Stand Together – C. Finch
Be Compassionate – H. Meilstrup
Live in Harmony – B. Hawkins
Have Courage – H. Abernathy
Be One in Christ – C. Pulley
See as God Sees – C. Kalichack
Value Others – M. Westbrook
Let Your Light Shine – R. Harvin
Watch the MPCS Christian Life chapel video discussing the Campaign for CommUNITY on campus.
Amber Irizarry is the Communications Content Specialist at Mount Paran Christian School. She earned a Master of Arts degree in Communication from Georgia State University.
To learn more about the Mount Paran Christian School CommUNITY initiative for diversity and inclusion, click here.