Never has the importance of proper athletic training for young people been so important. Increasingly, more and more youth are spending a large portion of their after-school hours engaged in organized sport and free play. According to research cited by Aspen Project Play, approximately 74-percent of young people ages 13-17 spend time participating in a team or individual sport, and children ages 6-18 spend more than 16 hours per week engaged in some form of sport, including practice and competition. These statistics demonstrate a great trend considering the many mental, social, and health benefits of engaging in sports and physical activity.
The President's Council on Sports, Fitness, and Nutrition Science Board attests that by participating in sports, children have lower rates of anxiety and depression, increased overall quality of life, improved social skills, higher likelihood of college attendance, and a myriad of physiological benefits. By focusing on the individual needs of student-athletes, schools can help students develop at their best to reach peak performance.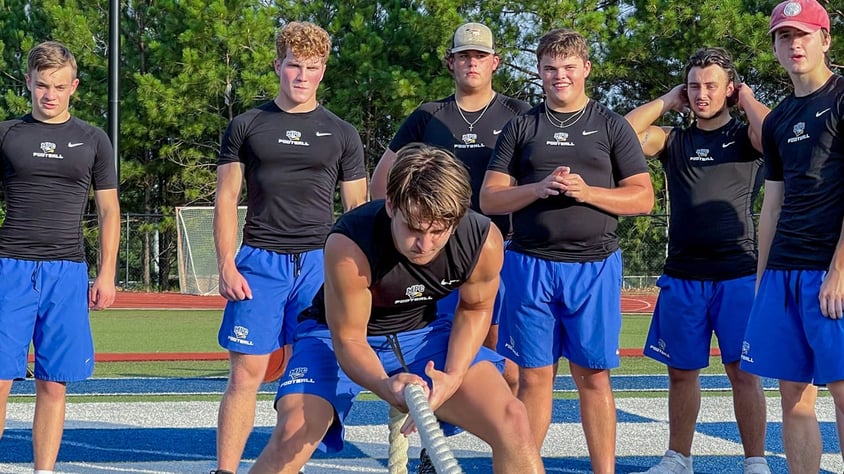 THE MPC WAY
Within the walls of the Knox Athletic Performance Center at Mount Paran Christian School, students can be found at all times of day focused on improving their personal fitness. As Christian music blasts over the loudspeakers in the Knox, these young ladies and young men are focused - lifting weights, practicing routines, meeting with trainers for focused training plans. Students receive individualized instruction and care to maximize their success.

Doing athletics the "MPC Way" means student-athletes exercise humility, integrity, passion, relentless effort, and a commitment to excellence, all for the glory of God. To help these developing athletes reach their full potential, training and fitness programs, such as those offered by MPCS, maintain a robust strength, conditioning, and nutrition program, led by a team of dedicated coaches, trainers, and professionals.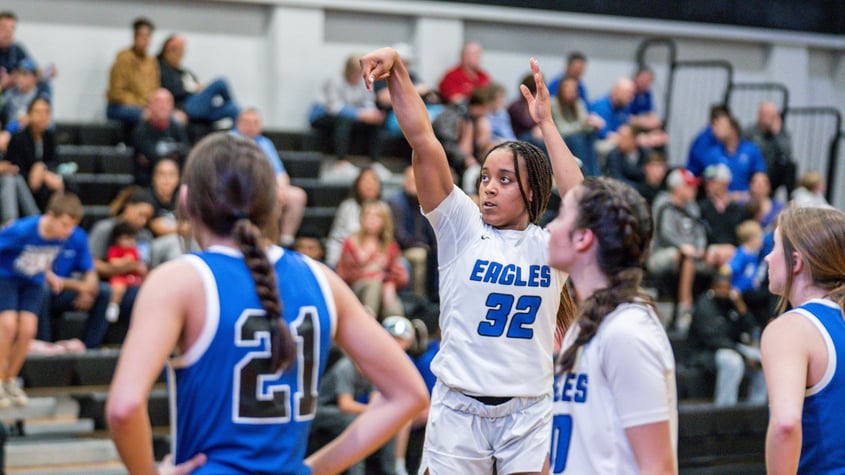 COACHING MADE SIMPLE
The aim for trainers is to prioritize long-term performance, safety, and health, both in the weight room and on the field. Learning correct movement patterns and hammering the basics will always be the initial experience in the MPCS weight room.
While the school has a variety of equipment and can use plenty of different effective modalities to achieve its goals, the philosophy is to keep workouts as simple as possible as long as it continues to be effective and the proper stimulus is achieved. Using simple movement patterns does not mean workouts are easy; instead, students can challenge themselves earlier on because they will have mastered simpler movements faster and be able to perform them better. Inevitably, students will progress, and, as they are able, the complexity of movements becomes more advanced and challenging.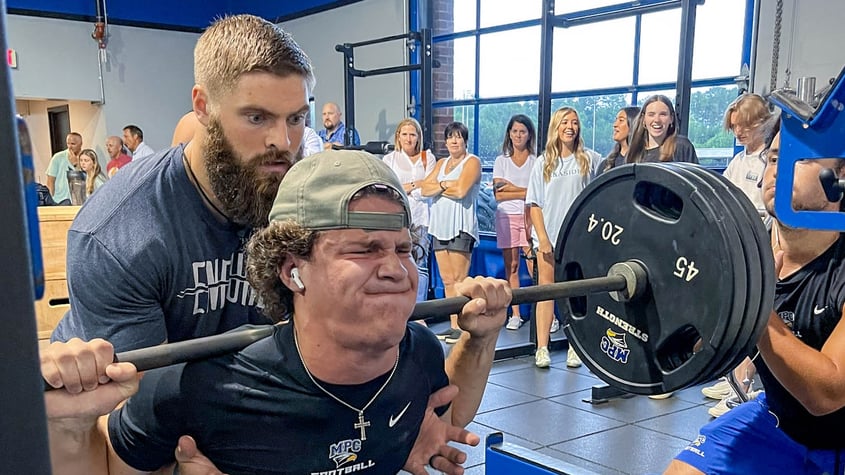 THE RIGHT TOOLS FOR THE JOB
High school fitness and training facilities such as the "Knox" at MPCS, are home to a wide variety of equipment and tools for all students, no matter the sport. Standard weight room equipment - platforms, racks, barbells, kettlebells, and dumbbells - is used consistently throughout training sessions. But, more specialized equipment for specific sports with different demands is also available, thanks to the support of the MPC booster club, Eagle Backers. For instance, specialized equipment for overhead sports such as baseball or volleyball limits stress on the shoulders during the season. Various simple plyometric and sprint work equipment is also common to the program, including hurdles, jump boxes, wickets, and sleds.
Assessing athletes' speed, power, and strength is extremely important. Technology can help show an athlete their progress and growth potential, providing motivation and enhancing performance. Strength is simply tested by lifts. Speed is tested accurately with timing gates that break down and assess bits and pieces of every sprint. Instead of having to test one thing at a time, trainers can break down a single 40-yard sprint to see multiple results in one run (e.g. a 10-yard sprint, a flying 20, and the full 40 yards). Force output is measured with a jump mat, which can show not only the jump height but also hang time and ground contact time when performing multiple jumps in succession. Technology allows these results to be immediately visible to the coach and athlete in real time.

FUELING ATHLETES FOR SUCCESS
While a fully-equipped training complex features a traditional weight room with its racks and platforms and indoor turf area with space for dynamic warmups, plyometrics, sled, and acceleration work, it's what's next door that also makes a key difference for athletes. Adjacent to the weight room, bay doors open to a student nutrition center. Alongside targeting training, intentional prioritized recovery is equally important for student-athletes. Multiple sources of nutrition are provided post training sessions, such as common staples like chocolate milk, protein-enriched peanut butter, and nut-free and gluten-free protein cookies, bars, and wafers. MPCS food partner SAGE Dining Services also provides guidelines to help student-athletes fuel for peak game day performance and training days.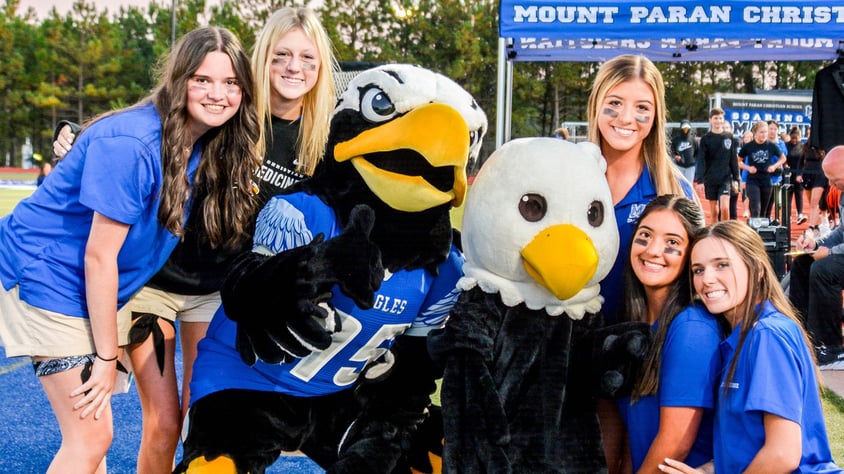 Through a partnership with PT Solutions, Mount Paran Christian School provides a full-time athletic trainer for all student-athletes. The athletic trainer utilizes two state-of-the-art athletic training rooms to administer immediate care, injury treatment, rehabilitation, and prevention protocols. The MPC strength and conditioning coaches work closely with our athletic trainers to maintain and improve the health of our student-athletes. Our PT Solutions athletic trainer also provides opportunities for our students to learn and participate in injury assessments, rehabilitations, and prevention processes. These students apply for a position within the program and learn alongside the athletic trainer in real time as they assist with games and practices. Students are also exposed to a variety of medical fields in hopes of providing them opportunities to discover areas they may be interested in for future careers.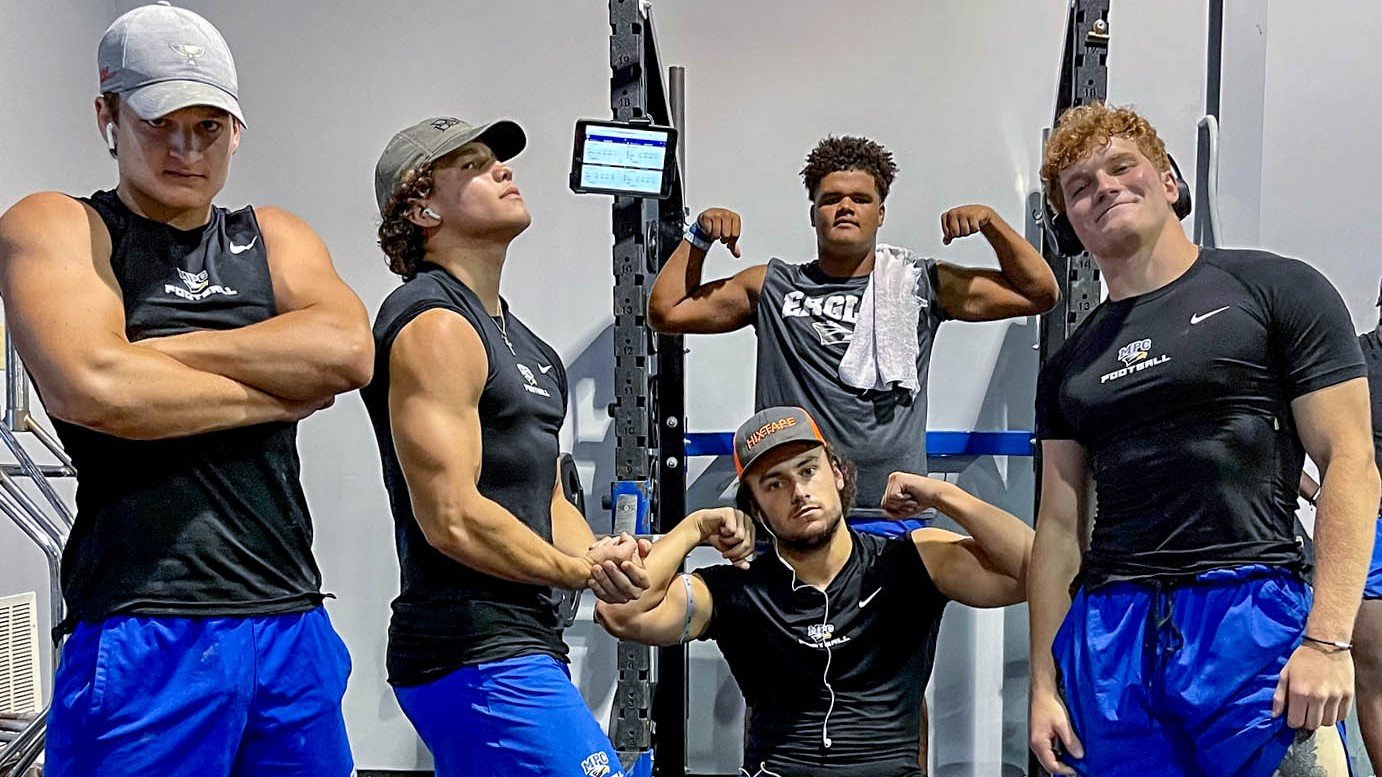 By focusing on the specific needs of each athlete and the demands of their chosen sport, the MPC training program helps all student-athletes grow and develop so that they can do their best for the glory of God.
---
William Bryan is the Director of Sports Performance for Mount Paran Christian School.

To learn more about MPC athletics and the MPC Way, click here.