In today's culture, information is readily accessible on laptops or digital devices. It's time for library media centers to make a change from the information age to the imagination age.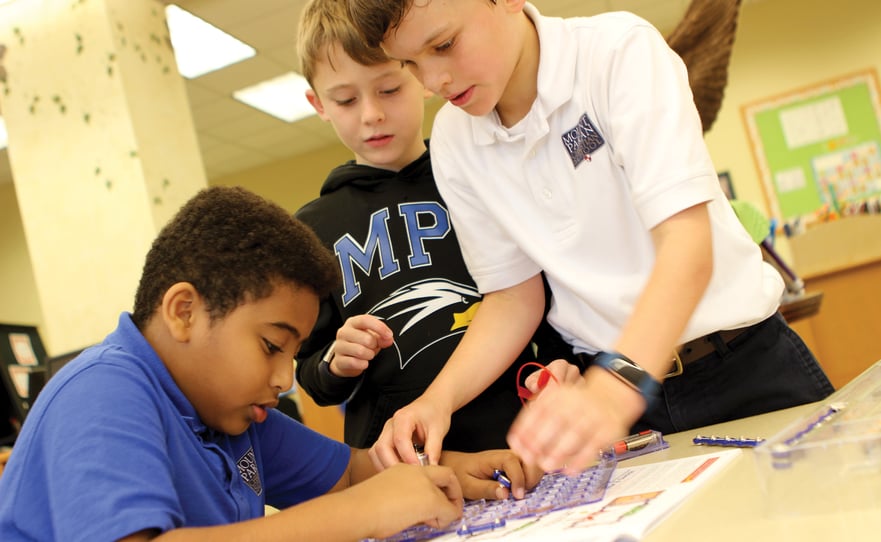 Re-imagining the Space
At Mount Paran Christian School, we have created exciting new "Makerspace" stations in the Myrick Media Center where lower school students explore various ways to express themselves and their ideas. Children have the freedom to do this individually or collaborate in groups of various sizes. Makerspace is a place where students have an opportunity to explore their own interests; learn to use tools and materials, both physical and virtual; and develop creative projects.
We encourage all of our students, no matter what their interests or skill level might be, to begin to recognize links between the enjoyment they experience while they are "making" and possible future careers in STEAM. Although Makerspace may seem to be just a place where students can play, it is important to see that this type of playing builds social-emotional competence in many domains: language skills, social skills, empathy, imagination, self-control, persistence, and higher-order thinking.
Makers in the Making
Two of our most popular stations that appeal to kindergarten through fifth grade and beyond are Osmo and Q-Ba-Maze. The philosphy is built on the belief that children learn best when engaged in creative play. Their educational game systems nurture social intelligence and creative thinking by unlocking the iPad to the infinite possibilities of physical play. Rather than kids staring at a tablet, this ground-breaking technology system bridges the physical and digital worlds by taking gameplay beyond the screen. Various educational games include Masterpiece, Newton, Tangrams, Numbers, Letters, and Coding, and they foster the exploration of art, science, and math. It's designed for anyone age six years old and up and is a favorite among even our youngest students.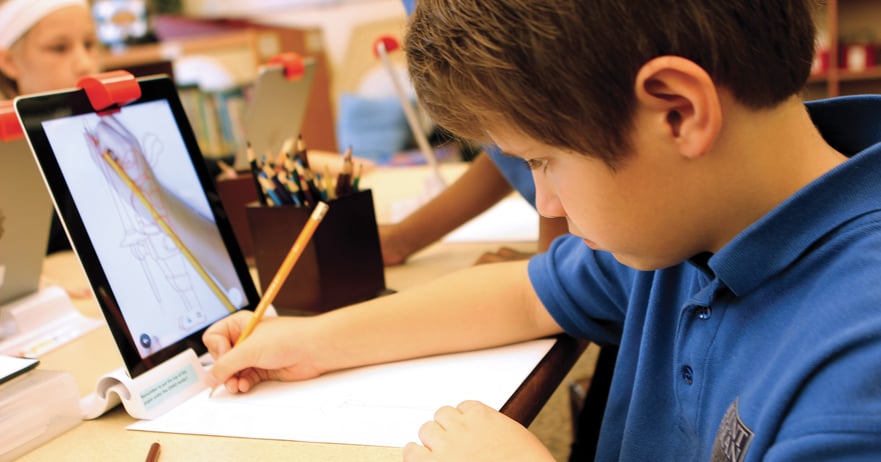 The Q-Ba-Maze marble maze puts the laws of motion to the test. The unique design of the cubes allow for a limitless range of configuration options and the stunt sets let students add rolling, bouncing and spinning action to the steel marbles. Children are drawn to these colorful revolutionary cubes in which they can create endless paths and possibilities while bolstering precise engineering skills. The students collaborate beautifully at this station to produce unique marble mazes — no two are ever the same!
4 C's of 21st-Century Learning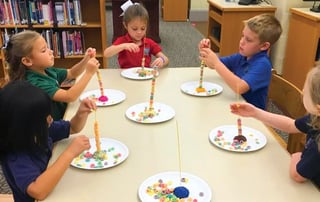 Makerspace provides a powerful set of opportunities for students of any skill level to jump-start their STEAM education. Schools like MPCS are beginning to see the value of incorporating Makerspace into students' traditional, challenging curriculum. We are thrilled to be at the forefront of this innovative movement and integrate it into our media center environment. With our various stations, we are supporting and encouraging the four C's of twenty-first century learning: Creativity, Collaboration, Communication, and Critical Thinking. We believe that the maker movement will offer new opportunities to help propel the next generation into a better and brighter future and equip them to skillfully serve in their chosen careers.
Kathy Bridges serves as the Media Center Specialist at Mount Paran Christian School.
---
MPCS focuses on innovative ways to teach our students. Click here to learn how academic excellence is achieved in a Christ-centered environment.