TUCK ALFORD '13 AND SLATON SMITH '22
Prom. It's one of the most anticipated rites of passage for high school juniors and seniors. The word itself conjures images of sequined gowns, sharp tuxedos, flower bouquets and boutonnieres, pre-parties and pictures, limousines, fancy dinners, and post-event celebrations. Hours are spent shopping for the perfect attire and planning details for the night. Thousands of dollars are spent for this one special occasion. It's little wonder that, on average, Americans spend nearly $7 million on prom each year. A group of Mount Paran Christian School alumni aimed to change all that, encouraging high school students to rethink prom.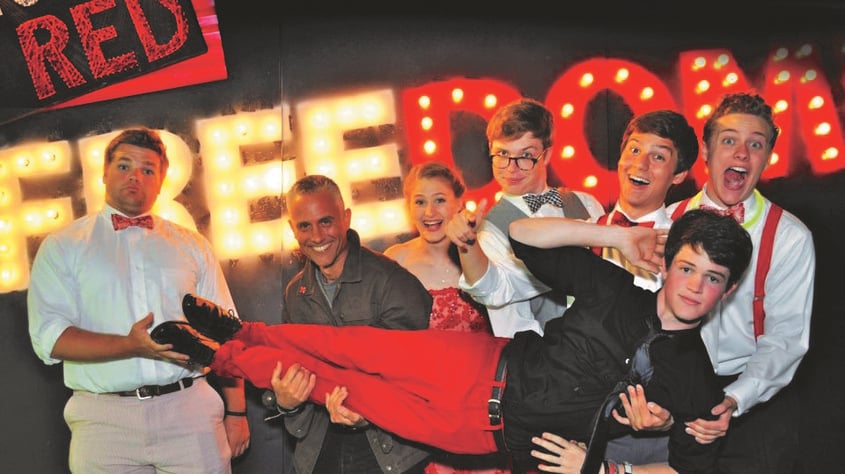 AN IDEA IS BORN
As sophomores, MPCS students Chris Chaput '13 and Tuck Alford '13 attended prom and realized how much money was being spent for one evening. MPCS alumni parent Rob Chaput shared a vision for changing prom by reducing personal expenditures and redirecting those dollars to a worthy cause. After learning of the travesties of human trafficking from the End It Movement, Chris, Tuck, and fellow classmates Scotty Valiani and Mallory Pettet felt called to tackle this serious issue.
"With human trafficking fresh on our hearts and minds [after attending the Passion 2012 conference], we started to talk about what we could do to make a difference," shared Rob. It was then that the grassroots, nonprofit organization promRED was born. God made it clear to the founding members that this was the cause to which prom funds should be directed. "His hand was very evident to all of us," said Rob.
The high schoolers began to research facts about the prom industry, as well as statistics about human trafficking. After devising a plan, the team shared their idea with John Braswell, the former MPCS dean of students and current alumni relations manager for the school who was instrumental in making promRED happen. The group wanted to host a promRED event at the school the following year, and, with the support of MPCS leadership, promRED became a reality.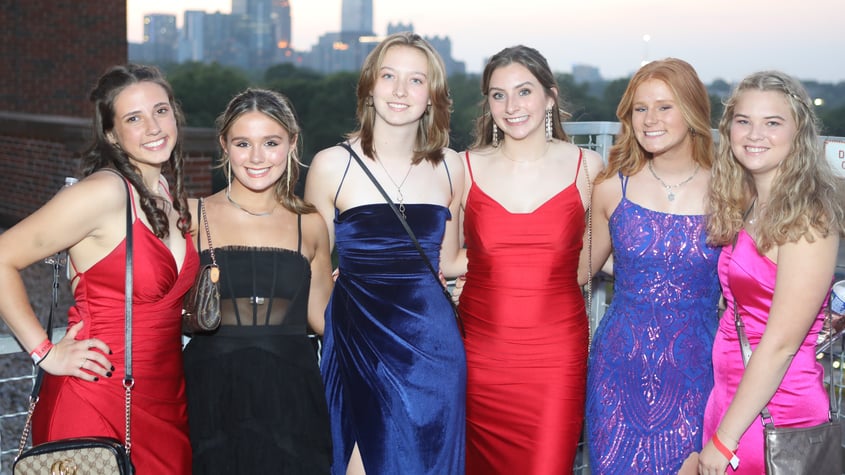 MISSION-FOCUSED
The mission of promRed is to encourage high school students to reduce personal prom expenses and instead invest those contributions to fight against modern-day slavery and human trafficking. It's definitely a culture shift from the "norm." By repurposing dresses and shoes from other events, enjoying home-cooked meals, foregoing corsages, and self-driving instead of renting a limo, students save money on prom and then donate the funds to promRed.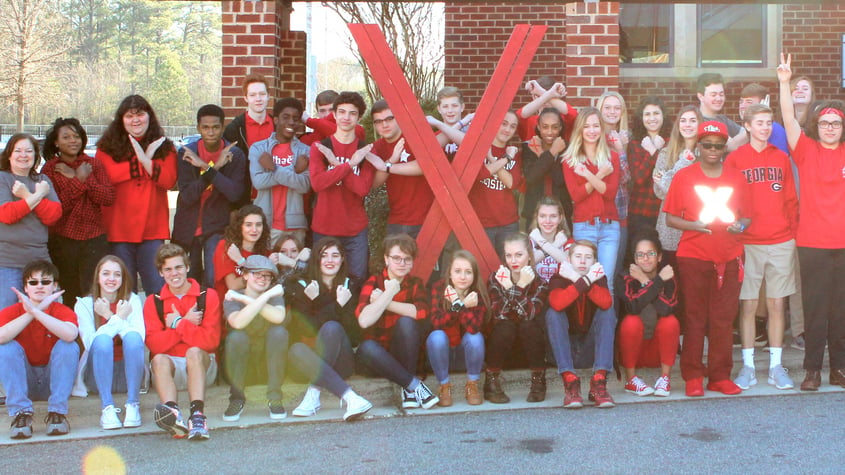 Of his junior-senior prom, Tuck shares, "It was a night where young people purposely chose to cut over-the-top expenses for a cause greater than themselves, while still having an awesome prom experience."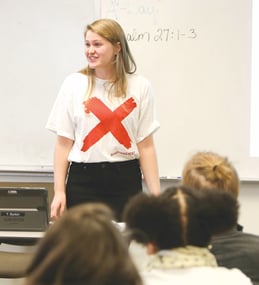 Mallory Pettet '13, promRed co-founder and current MPCS high school English teacher, said of her prom experience, "It was pure joy for me to be able to get a red dress at a consignment shop, sport the same shoes I wore to the eighth-grade dance, find an inexpensive manicure and pedicure, have a potluck dinner at a friend's house, carpool with friends to prom, and dance the night away… to the music of a DJ who generously supported promRED's freedom cause."
AGAINST THE GRAIN
At the first promRed event in 2013, many MPCS students, parents, faculty, and administration joined promRED in the fight for freedom. By cutting excesses from prom, the group raised more than $17,500 in the first-ever promRED event. With its initial success, the high school student founders recognized that the good they were doing could grow exponentially.
Though American culture traditionally pushes the idea of spending big dollars for prom, promRED encourages high school students to go against the grain. Students who redirect their prom money feel good about giving to others and realize the impact of their giving. By sacrificing a portion of the dollars students normally spend on themselves at prom, lives are being saved and the name of Jesus is being made known around the world.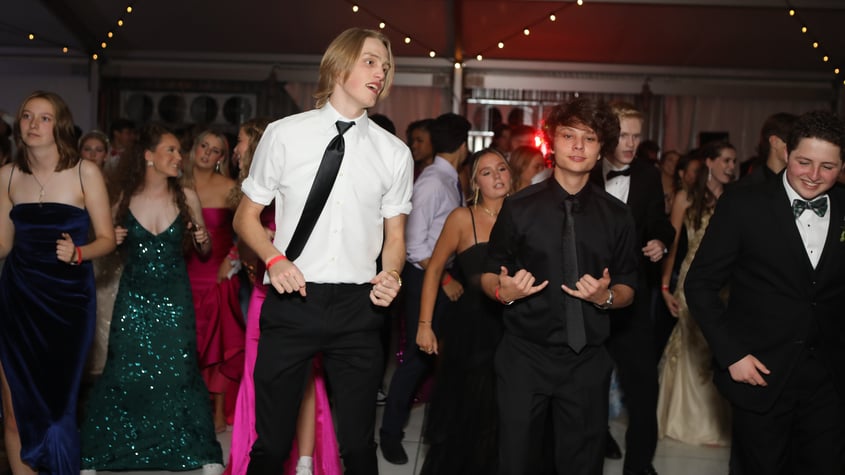 "We believe that God has called us to reflect his love to [victims of trafficking]," shares Tuck. As it states in Matthew 5:16, "Let your light shine before others, that they may see your good deeds and glorify your Father in heaven." Through promRED, God is using high school students to share His love and hope to those impacted by modern-day slavery and trafficking.
"Only God could spark the idea in us of something so culture-changing for the sake of the freedom of His people," said Mallory.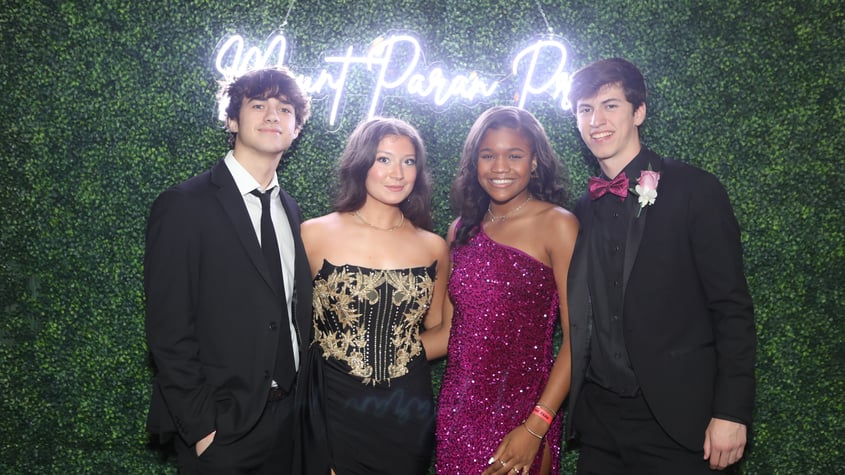 A HOPE FOR THE FUTURE

As promRED nears its tenth anniversary, the nonprofit organization has spread from its origins at Mount Paran Christian School to a movement with global reach. Over the years, the group has raised thousands of dollars to benefit multiple partner ministries: A21, Tiny Hands, IJM, Wellspring, Rescuing Hope, and the End It Movement, each of which is urgently working for prevention, rescue, restoration, and awareness.
A21 works to prevent trafficking in the Ukraine by reaching youth at risk. Tiny Hands builds new, safe homes on the border of India and Nepal. IJM funds undercover rescue operations to free slaves from bondage in India. Wellspring restores and furnishes apartments for survivors of exploitation. Rescuing Hope trains people to recognize signs of trafficking, in addition to rescuing and restoring victims. And, the End It Movement creates awareness about the more than 27 million men, women, and children living in slavery today.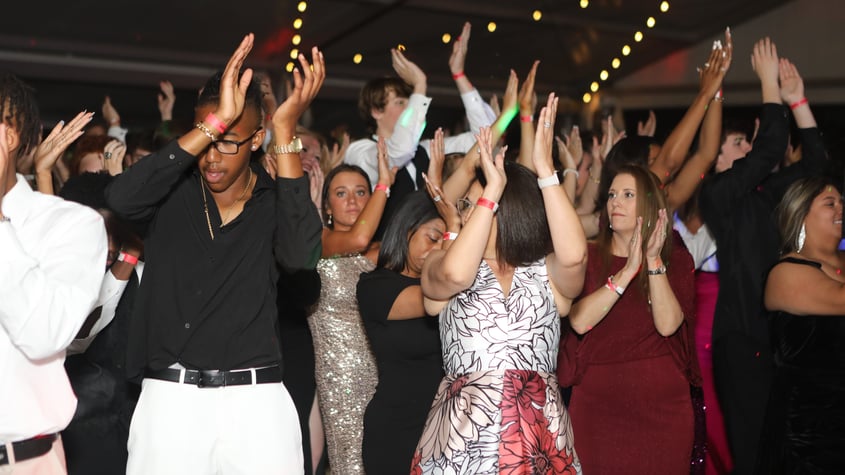 Current MPCS promRED school club advisor Teresa Burton considers it a privilege to have served as sponsor to the students for the past several years, most recently alongside teachers Shannon Causby and Mallory Pettet, a founder of the group. "It has been a great honor to be a part of this group of students who have a heart for rescuing people from human trafficking and forced labor," she says. "This group has been able to raise money for the past 10 years to support organizations who rescue people globally, so through this group, MPCS has been saving lives throughout the world! As Christians, we are called to share the gospel so that others can be released from sin and be set free, and promRED has been a part of sharing the gospel and releasing people physically from the bondage of slavery."
In addition to fundraising initiatives, promRED student participants are involved in supporting local organizations. The student-led club is a year-long push toward raising awareness and encouraging student involvement in social justice. Students meet monthly and are mentored by faculty and staff. Beyond redirecting personal prom expenses, students also host a talent show fundraiser and a "wear red" day fundraiser. They partner with local groups Wellspring, Rescuing Hope, and the Table on Delk for hands-on volunteer work, such as wrapping Christmas gifts for survivors.
Over the years, passionate student members of promRED at MPCS have also spoken to other schools as part of an awareness campaign, including at Fellowship of Christian Athletes events. With continued support of student-leaders at Mount Paran Christian School, the aim is to keep spreading the word about the mission of promRED and work to end human trafficking. While promRED was started by a motivated group of students at a small private school in Georgia, its reach has global impact.
---