When teachers from various disciplines combine their efforts and plan course curriculum to coordinate across fields of learning, students are the beneficiaries. While it takes time and effort, cross-disciplinary collaboration offers students the opportunity to deepen their understanding of a subject. For Mount Paran Christian School third-graders, appreciation for nature has only strengthened because of a collaborative butterfly project between Spanish and Science classes.

BENEFITS OF CROSS-DISCIPLINARY COLLABORATION
Cross-disciplinary collaboration involves teachers in multiple fields working together in a concerted effort to teach students about the same topic simultaneously, with the material explored from the perspectives of each discipline. This approach avoids "silos" - learning that occurs in isolation - resulting in more creative and engaging experiences for students, while teaching kids to understand multiple viewpoints.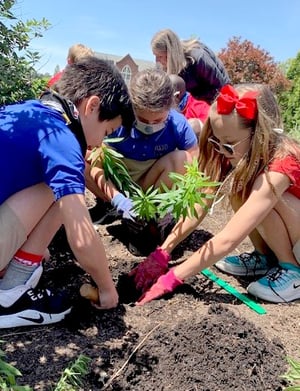 MPCS Lower School Spanish Teacher Sra. Claire Mozley introduced her third-grade students to the Spanish word mariposa - butterfly - alongside other nature-related vocabulary and cultural concepts. Lower School Science Teacher Mrs. Wanda Droege then extended the lesson into the third-grade Science classroom, studying monarch butterfly habitats and migration. By exploring themes in-depth and applying lessons learned in one class to another, students have the opportunity to deepen their understanding of a subject.
Students are also encouraged to follow their innate curiosity, asking questions and digging deeper. They become young experts, simultaneously achieving mastery over a subject and gaining self-confidence. Real-world scenarios further allow students to practice developing their critical-thinking skills, one of the essential 21st-century skills required of today's learners.
AN IDEA IS BORN
The MPCS third-grade monarch butterfly project began when Sra. Mozley learned of the project from another teacher's blog. To participate, the school joined the Symbolic Migration project, a partnership between Journey North, a program of the University of Wisconsin-Madison Arboretum, and Monarchs Across Georgia, a committee of The Environmental Education Alliance of Georgia.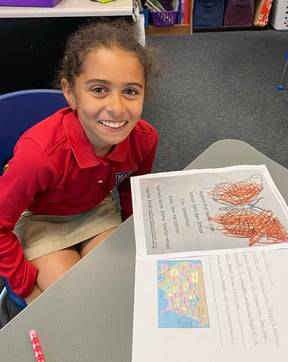 According to the Symbolic Migration Project, "By participating in this project, educators can access lessons and activities that engage youth in monarch biology and conservation. Youth then decorate paper cutout Symbolic Ambassador Monarch Butterflies that are mailed and distributed to youth who attend schools near the Monarch Butterfly Biosphere Reserve in central Mexico. These symbolic butterflies build bridges of communication among participants in Mexico, the United States, and Canada. United by the monarch butterfly, youth celebrate and pledge to protect monarchs and their extraordinary migration."
"I truly didn't know much about monarchs until Sra. Mozley introduced it to our students," shares Mrs. Droege. "Because of COVID, exploratory teachers held their classes in our homerooms. I was blown away listening to Sra. Mozley begin this project during Spanish [class]. She excited everyone in the classroom about this project, including me." Students began their research in Spanish class and wanted to continue their research when they came to Science. Since research skills are an important focus in third grade, it led to the perfect assignment. While researching, students read about the efforts to add monarchs to the endangered species list, discovering that, although the monarch population has declined 75-90 percent, the efforts to protect them under the endangered species act have been put on hold. Thus, the Symbolic Migration Project is fulfilling a critical need in monarch conservation.
CROSSING DISCIPLINES
In the fall of 2020, MPCS third graders were introduced to butterflies in Spanish class through song, literature, video, and art. Students participated in a live Zoom presentation with author Ba Rea, who read her book Monarch! Come Play with Me in both English and Spanish and discussed conservation efforts with the students. These young learners then made their own butterfly art project and a symbolic poster linking MPCS to a school in Mexico. Through the Journey North program, the students' butterfly artwork made the migratory journey to Mexico and back. The project is one of mutual awareness: students in America learn about Mexico, while students in Mexico learn of the need to protect monarch conservation overwintering migration areas in their hometown.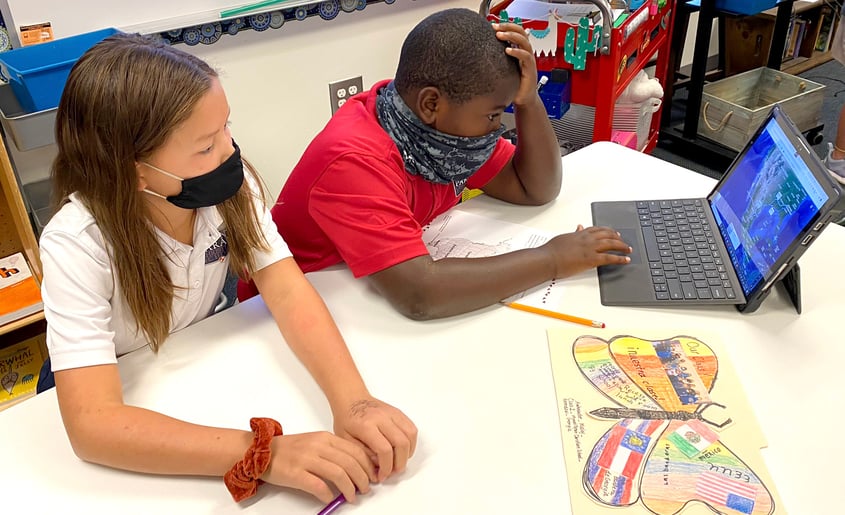 While the monarch artwork butterflies "overwintered" in Mexico, students began the scientific exploration of monarchs and their habitats, learning a great deal. Natalie says she learned that "monarchs are poisonous because they eat milkweed. It turns them orange and tells predators that they are poisonous." Claire said she learned about the "route from Mexico to Canada and back again." For Aubrey, it was fascinating to learn that the monarchs "squeeze together on trees so much in Mexico during winter that they can break branches." And, Collin learned about the super monarch - the last egg laid on the journey north is a super monarch that can fly all the way back down to Mexico to overwinter. Students also learned about the importance of milkweed and preserving the overwintering forest for the monarchs.
Over several months, the classes charted the route of the butterflies online through Project North, learning about climate, habitat, life cycles, geography, and the border between Mexico and the United States. Soon, the students' monarch butterfly art projects began "migrating" to the United States. Most recently, students wrote letters to students from other schools whose monarchs "arrived" to MPCS in a symbolic exchange program. MPCS students also received emails and letters from the areas to which their own monarchs migrated.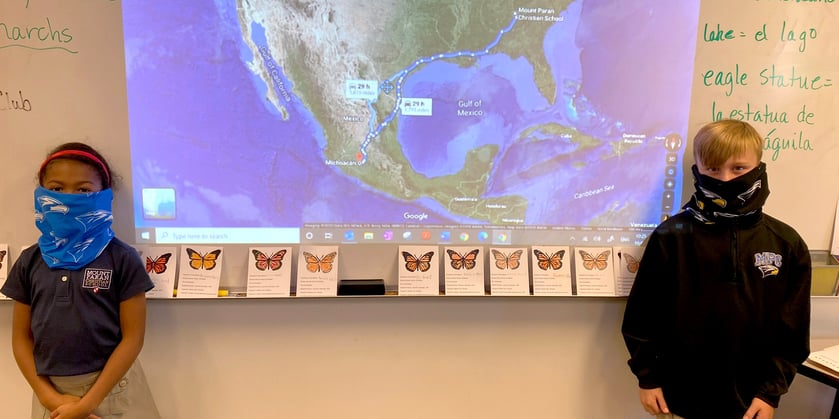 IN THE GARDEN
In third-grade science class, the focus is habitat restoration. Thus, learning how to create a healthy habitat for monarchs in the class garden extended the lesson in a personally meaningful way for the students. The third graders researched the native plants that should be used in the garden and created a plan for expanding the existing garden to include native milkweed. The students learned about preparing the soil for the garden, planting native plants, and creating the best conditions for plants to grow. All of this aligned perfectly with third-grade science learning standards. The biggest finding was the need for native milkweed, which proved difficult to source. After successfully locating a nursery that could provide milkweed, students were able to dig in, planting in the spring of 2021.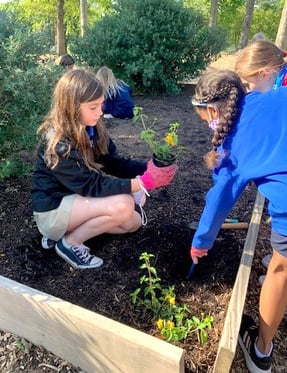 The cross-disciplinary collaboration was so successful that both Sra. Mozley and Mrs. Droege plan to continue the project in the future. As the garden habitat becomes more established, the hope is to see monarchs in the school garden. If so, students will report sightings to Journey North and become part of the tracking effort. The young scientists look forward to expanding the habitat and propagating milkweed seeds. With success, MPCS students can educate others on how they can help in these sorts of conservation efforts. Third-grade student Addison sums it up best: "I believe if we all do something small, like planting milkweed and putting in a little more effort into watering it and planting flowers in your school garden, I believe we can make our community beautiful."
---
Amber Irizarry is the Communications Content Specialist at Mount Paran Christian School.
For more information about how lower school students develop a love for learning at MPCS, click here.