Innovation may be the buzzword du jour, but, for forward-thinking schools, innovation is ingrained within curriculum, allowing for the exploration, creation, and implementation of solutions to real-world problems. For Mount Paran Christian School, innovative learning takes many forms in the classroom, including a very real, hands-on approach for high school business students through the Roost Coffee Co.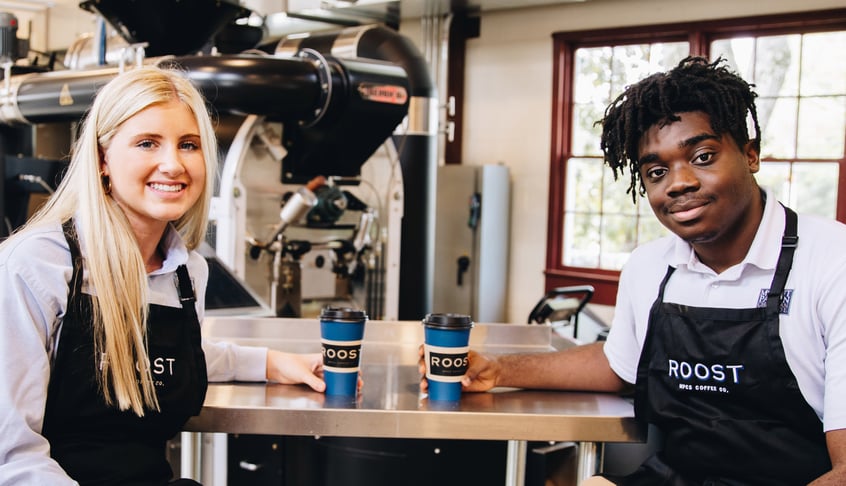 A CHALLENGE EXTENDED, AN IDEA BORN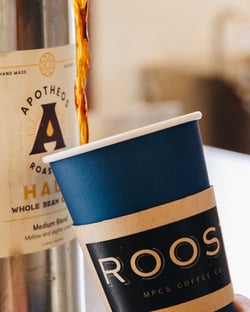 During his freshman year, Zachary Fors '21 enrolled in the MPCS high school "Intro to Sports Marketing Class" and subsequently the "Intro to Business" class. His challenge was to identify a need at the school and create a solution. From this, Roost Coffee Co. was born – so named for the MPCS Eagle mascot. (A "roost" is where birds congregate together, where community occurs.)
With the help of faculty and staff, Zachary crafted a business plan and approached Head of High School and Associate Head of School Mrs. Tawanna Rusk to request a trial investment. Mrs. Rusk had toured a school in Cincinnati that had successfully implemented a similar venture, so she was eager to support Zachary's trial run. The Roost trial was so successful that Zachary soon sought additional funding to expand. "I was nervous [to approach Mrs. Rusk for a startup investment], but I believed in our concept, and I had faith," Zachary shares. "No other school would've taken a chance on a student who asked for [a large investment]."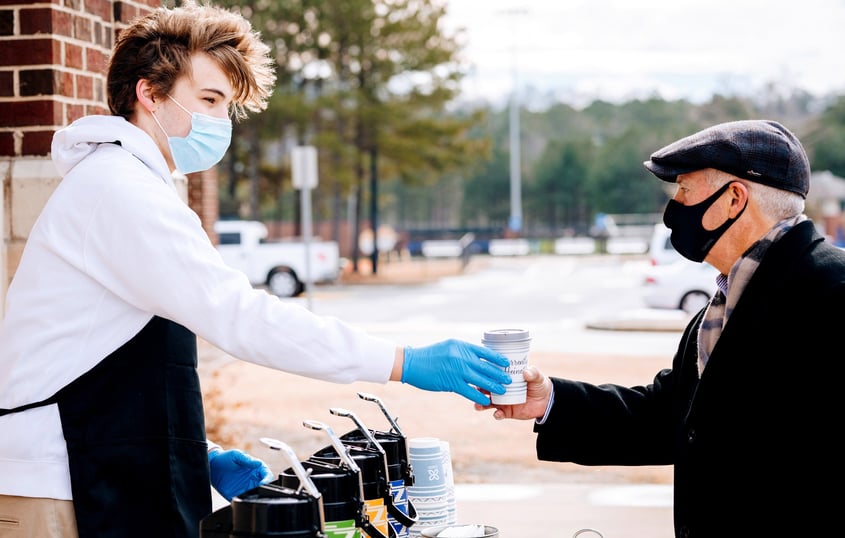 REAL-WORLD PRACTICUM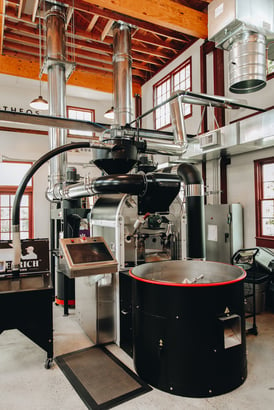 Giving students a safe space to explore the design process - to plan, try, fail, learn, and improve - is exactly the sort of innovative approach to learning that MPCS aspires to offer tomorrow's leaders, today. For senior Will Bell '22, the Roost "helps you work as a team with people and helps you be more proactive in higher pressure scenarios." Sophomore Jaden Emoghene '24 echoes that sentiment: "The Roost helps you develop split-second decision making to help you find the best solution for the problem at hand."
Taking the reins, Zachary Fors and classmate Antonio Hundley '21 arrived at school by 6:50 a.m. daily to brew the coffee. The duo grew in their practical business acumen, learning which SKUs were most profitable and deleting those with small margins. They applied concepts learned in business class, eventually growing the business to cater meetings and events on campus. When COVID hit, the students innovated the business model, developing an ordering website. To date, the Roost is a fully-digital operation with plans for expansion to retail.
The Roost team also explored new partnerships, including establishing relationships with a new local supplier. With vast knowledge of the science, history, and sourcing of coffee, Mr. Dale Hughes, father of two MPCS alumni, owns Apotheos roastery in Kennesaw. His son, Luke Hughes '17, is the operator. Once again, Zachary updated the Roost business plan and made a pitch to the father-son duo. They agreed to a partnership that allows Roost to expand its offerings to include baked goods, additional equipment, and popular items like cold-brewed coffee.

MOVING FROM ONLINE TO BRICK AND MORTAR
The Roost expanded offerings will be on full display in the forthcoming storefront, to be located in the new Murray Innovation Center, providing a central community meeting place in the new high school commons. Having paid back the loan to the high school administration, the team continues to plan ahead. In addition to reinvesting in the business, the Roost pledges to donate 10-percent of profits to a charity, with the remainder earmarked for a student-led trip.
MPCS business teacher Mr. Daniel Hazard has taken over leadership as the faculty advisor for the Roost. Of the venture, he says, "The Roost takes students and puts them in a real-world atmosphere on campus by operating a small business selling coffee and associated products. [Through this,] students gain experience, ownership, and synchronize their skills with [others] on the development of a menu that suits their student population. Students contribute ideas to help with branding and marketing, distribution of coffee, customer service, customer experience, and the implementation of new ideas, procedures, and strategies for making their business operate at its most feasible level."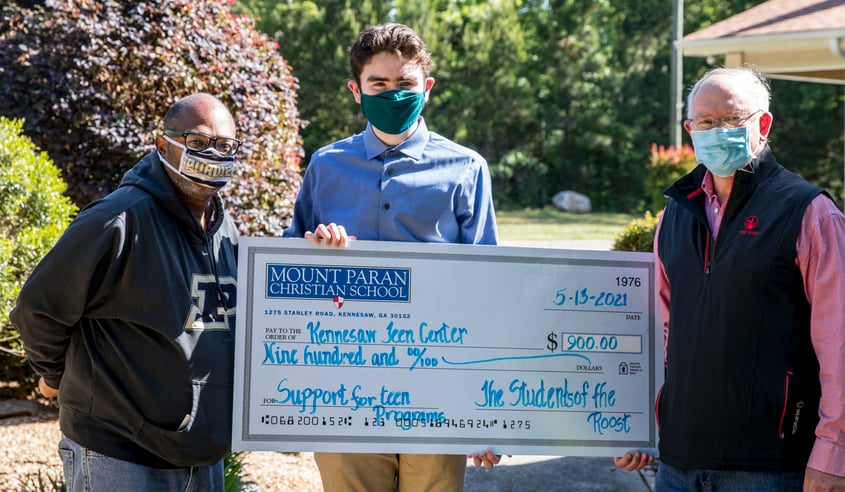 Indeed, during his senior year, Zachary served as the Roost manager, overseeing a staff of 8-10 students who joined the Roost after taking the "Business Practicum" course. He says, "Those involved with Roost are excited for what they're offering and that they take pride in their work." In doing so, they haven't forgotten their mantra: "Brewed with a Purpose." Taking that tagline even further, Zachary presented a donation from Roost Coffee Co. to the Kennesaw Teen Center's Executive Director Mr. Alois Johnson and Board Member Mr. Dale Hughes. The Roost solidifies skills in servant-leadership, which is the essence of the MPCS mission. As students seek real-world applications, they are able to glorify God through their work.
---
As Chief Development Officer, Jennifer New has served on the Imagine Tomorrow Capital Campaign that raised $31.7M for three major campus projects including the Murray Innovation Center, the expansion of the MPCS high school and the future home of the Roost Coffee Co. storefront. She worked diligently with the Roost Coffee Co. student leaders during the company's startup, helping to secure partnerships and supporting the student-led venture from its beginning.
We invite you to learn more about the Murray Innovation Center. For more on innovation at Mount Paran Christian School, click here.