CO-WRITTEN BY SHAUNDA BROOKS
Inside the quaint and cozy Sewell Cottage at Mount Paran Christian School, groups of preschoolers are clustered around a SMART Table. They're learning about habitats- dragging virtual animals on the touch-screen to the correct environments and clicking to make the animals howl or cluck. The children's giggles indicate they're having a ball, and they don't even realize how much they're learning, or that they're mastering cutting-edge technology at the age of three.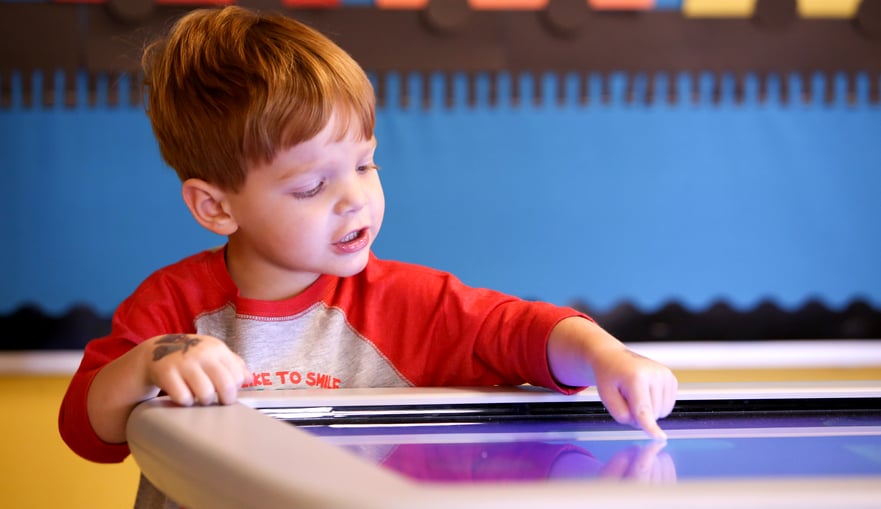 Experienced Teachers Guide to Achievement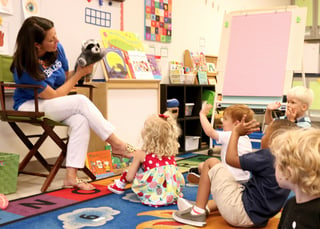 While the fully-certified preschool teaching staff provides loving and safe classroom experiences for preschoolers, they also capitalize on every learning opportunity through inquisitive, hands-on activities throughout each day. The curriculum is designed to foster social foundations and, at the same time, provide individualized academic instruction. Through project-based learning opportunities and focused instruction, students are rigorously challenged and encouraged to become problem solvers and self-motivated learners. On-going formative classroom assessments, as well as quarterly summative assessments give insight into the evidence that preschoolers enrolled at MPCS demonstrate an average of a 13% higher level of kindergarten readiness than students entering kindergarten from other programs.

In annual summative assessments of both current and prospective rising kindergarten students, data collected reflects the following mastery levels for kindergarten readiness:
KINDERGARTEN READINESS SKILLS
(mastery levels up to 100%)

MPCS Preschool Students

Non-MPCS Prospective Students

Differential in Mastery

Numeration

91%

81%

+10%

Lower Case Letter Recognition

94%

81%

+13%

Letter Sound Recognition

86%

69%

+17%

Phonological Awareness

86%

72%

+14%




Effective Early-Childhood Instruction
Within the preschool classroom, every activity is intentional to accomplish these goals. Georgia-certified teaching staff are implementing research-based best practices. Small student-to-teacher ratios allow individual enrichment for both the emerging and beginning reader. The best predictors for how well students read in later years are phonemic awareness and letter knowledge. For this reason, literacy skills are intentionally fostered through whole group and small group instruction.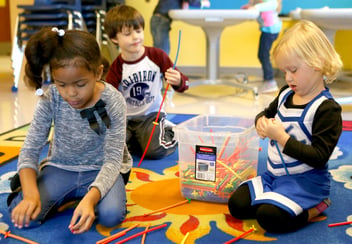 Through research on child development, teachers incorporate activities which allow for maximum skill development. STEAM classes enrich academic development through technology which reinforce letters, sounds, and numeration through colorful and engaging activities using iPads, SMART Tables, and Osmo systems. STEAM also explores creative science and math through kinetic building projects and hands-on experimentation. Music, P.E., and Spanish impact young children by teaching specific skills which support the student's growth in language, expression, and gross and fine motor development. Skills such as hand-eye coordination, ability to focus, attending to a task, building stamina, and cross-body movement are incorporated to develop the early learner's brain. Artistic visual and tactile exploration within the classroom helps to develop the total child.
Through the skills analysis of rising kindergarten students, we are confident that the MPCS preschool ensures appropriate challenge and confidence-building equating to student's academic success. More importantly, each child's growth in the knowledge of Jesus is what sets the program apart. This exemplary instructional approach and fostering of faith has proven to set MPCS students up for success as they advance to kindergarten and beyond.
Shea Buehler serves as the Director of Preschool at Mount Paran Christian School. Shaunda Brooks is the Chief Admission Officer.
---
Loving and academically advanced, the MPCS preschool provides an all-encompassing early-childhood education for preschoolers ages 3-5. To watch the video about the kindergarten program, click here.