While the number of students participating in organized sports may be on a downward trend, no doubt thanks in part to the increase of time spent in front of screens and devices, some high school athletics programs are seeing extremely high participation levels. Those particular teams happen to be led by female student-athletes. What is so significant about this trend? And, how are female-led teams leveling the playing field?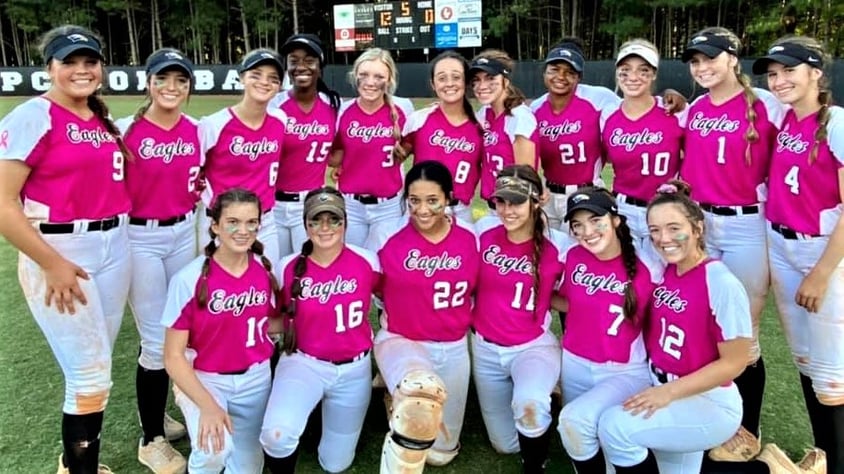 BENEFITS OF SPORTS
According to the Women's Sports Foundation, the benefits of participation in sports are plentiful: better physical health, a strong sense of well-being and good emotional mindset, and enhanced academic performance. The mental and physical strength that comes as a side-effect of athletics involvement, partnered with the self-confidence and leadership skills learned on the field, are key reasons many parents encourage their children's participation in sports.
The iconic early 1990s Nike TV ad, "If You Let Me Play," cites numerous other benefits of female sports participation: reduced risk of breast cancer, higher high school graduation rates, increased likelihood of college enrollment, and reduced risk of teen pregnancy. With higher self-esteem and better academic performance, it's little wonder that "94 percent of the women working in C-suites played sports, and 52 percent played at the university level" (EY/ESPNW).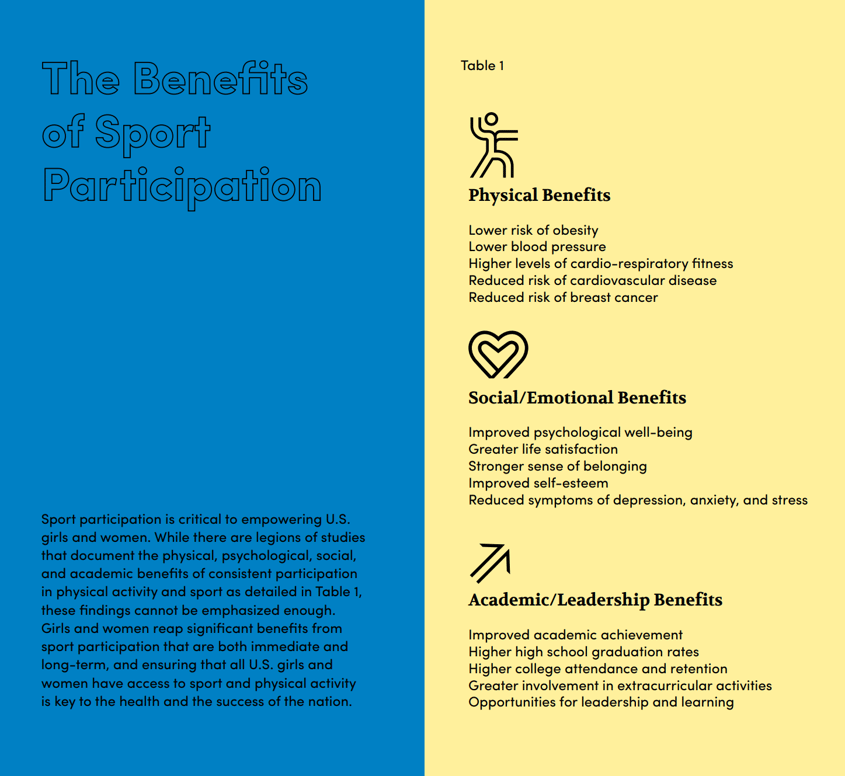 Source: Women's Sports Foundation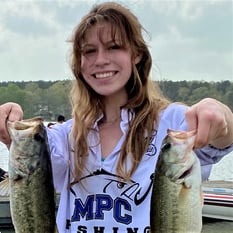 Americans have an overall positive view of the role of sports in our culture, with 64 percent of Americans surveyed attesting that "pro athletes have more influence in American society today than do professional faith leaders (19 percent)." (Barna, 2013) Female athletes like Jennie Finch, Serena Williams, Katie Ledecky, and Candace Parker are dominating their sport and serving as great role models for young girls.
The many benefits of sports participation, coupled with the positive American view of the role of athletes in society, yields a shocking revelation: according to a 2016 study conducted by Barna - a private, non-partisan research organization - only 23 percent of teens participate in organized sports after school. At Mount Paran Christian School, that number is significantly higher, in part due to the many offerings at multiple levels. Middle and high school athletics participation is 83 percent, with 64 teams (both male and female) in 15 sports.
Source: Barna
LEADING THE CHARGE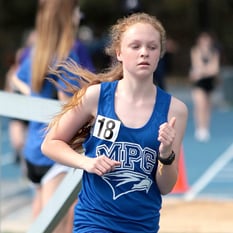 At high-performing schools like Mount Paran Christian School, everything is done in the pursuit of excellence. It's part of the core values of the school. Whether it's in the classroom, center-stage, in the community, or on the field, the school commits to excellence in everything, as unto the Lord.
Perhaps the best way to understand the pursuit of excellence is to understand the humility, integrity, passion, relentless effort, and a commitment to excellence consistently demonstrated by competitive athletic programs. Notably, many schools' female-driven sports have led the charge, reflecting a consistent trend in the rise of female participation in sports. While boys' sports have had consistent participation over the last decade, more and more girls have joined teams to compete at higher levels.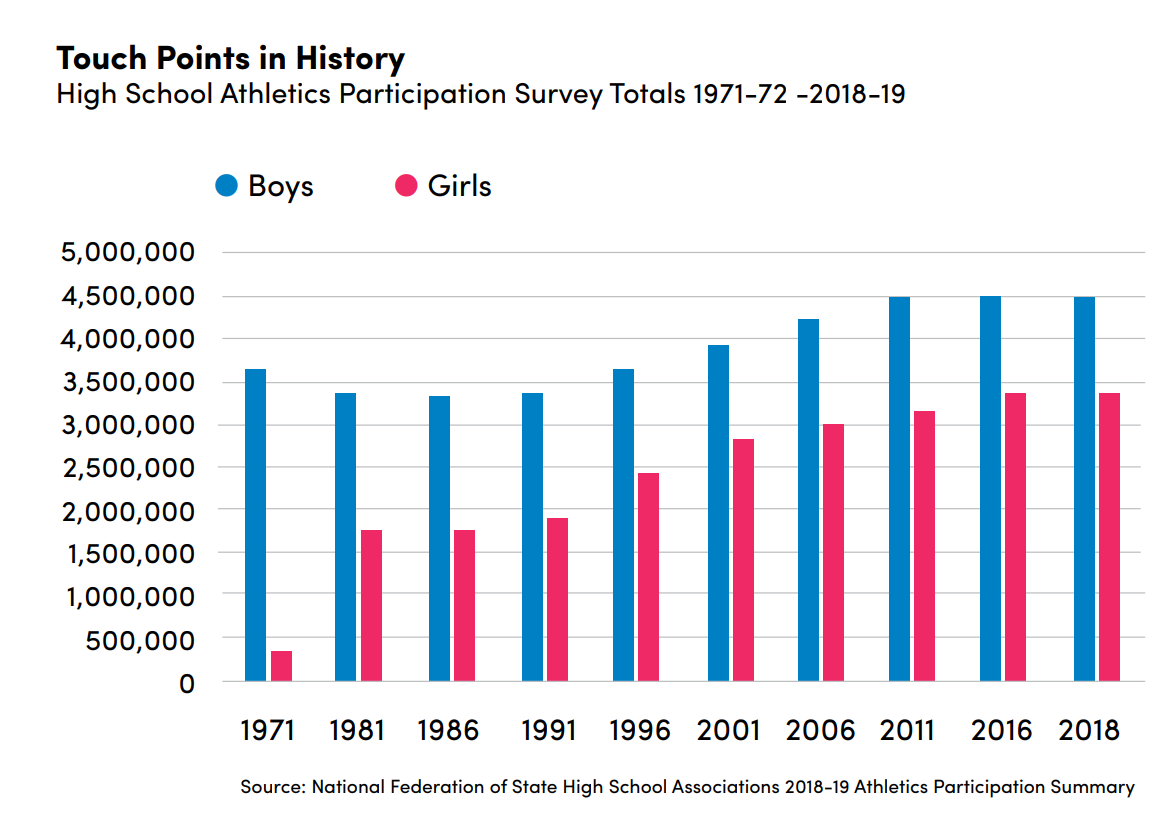 Source: Barna
A LEAGUE OF CHAMPIONS - FEMALE SPORTS TEAMS RACK UP TROPHIES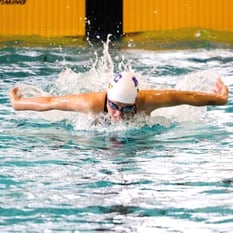 According to the National Federation of State High School Association, competitive cheer, softball, track and field, volleyball, and basketball are among the top ten most popular sports for girls in high school (Women's Sport Foundation, 2019). At Mount Paran Christian School, the trend has been proven true as these girls sports are racking up championship titles for the Eagles athletics program.
From the legacy of the MPC competition cheer squad, who is reaching for its tenth-consecutive State championship in 2021, to the varsity softball team, who brought home its first-ever State title in 2020, and girls track and field winning the 2019 title, these young women are building successful programs in the pursuit of excellence. Indeed, the girls' basketball team heads into winter ranked #1, and the volleyball team is in the running for its second State trophy this season. It is no accident that girls' sports are showing great success.

YEAR-ROUND TRAINING LEADS TO BREAKING RECORDS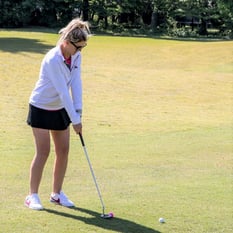 The culture of competitive athletics has changed over the last 10 years. Travel sports have grown 55% and have taken a front seat to high school athletics, with most players, both male and female, spending the off-seasons with club teams training and honing their skills. Female AAU basketball, academy soccer, USA swimming, select volleyball, premier girls fastpitch, and junior league tennis athletes are competing all year long, racking in hours of practice and game experience. The result is manifesting itself onto the high school court or field, with highly-skilled athletes joining forces to win Region and State titles for their alma mater. These female athletes are also taking their skills to the next level with increasing numbers signing college scholarships. Indeed, according to Next College Student AthleteTM, the overwhelming majority of current collegiate athletes played club sports in high school.
For example, at Mount Paran Christian, competition cheer is the standard-bearer because of the hard work and determination of each student-athlete to achieve seemingly impossible goals, all while holding themselves to the higher standard. The 18-member cheer squad is dedicated throughout every stage of the cheer season, from workouts to practices to each level of competition. Most of these athletes were competitive gymnasts and/or cheer with national club teams.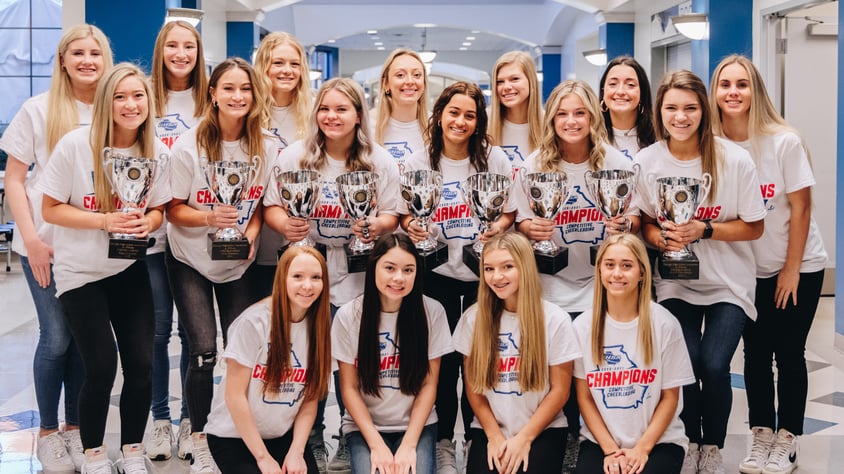 Coach Paige Johnson, a former Auburn University cheerleader herself, says, "The girls that make up the competition team are tremendous, committed athletes. They train year-round: running and conditioning, lifting weights, tumbling, stunting, cheering on the sidelines of football and basketball games. Every one of these girls is a skilled athlete – most of them play and compete in other sports."
At the GHSA Cheerleading State Championships in 2020, the squad brought home its ninth-consecutive title. The squad was recognized as the GCCA Team of the Year in 2018 and holds the most consecutive GHSA State championships for any sport in Cobb County. This ninth-consecutive title also puts MPC competition cheer in a tie with Lakeside gymnastics (1971-1979) for third most consecutive titles in the state in any sport - a truly impressive feat. No other cheerleading team has held such a legacy in Georgia. Many MPC cheer alumnae are competing at the Division 1 level for schools such as Clemson, Baylor, Georgia, Auburn, and Alabama.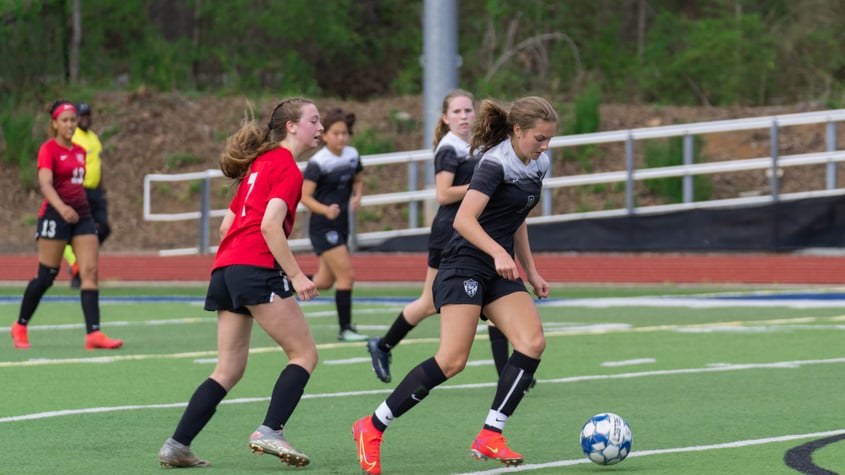 A WINNING CULTURE WITH HIGH EXPECTATIONS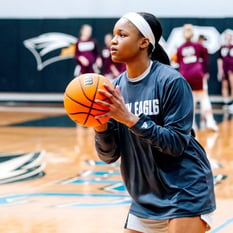 Developing success in female athletics has just as much to do with the coaches as it does the players. The investment in girls sports programs starts in middle school, under the mentorship of the upper-level teams and coaches. Varsity girls' basketball Head Coach Stephanie Dunn shares, "The common thread that women sports share, especially at MPCS, is a winning culture with high expectations. The coaches understand the importance of engaging with our student-athletes on and off the court, year-round, at multiple age levels. Rarely do coaches of women's sports only check in during the season. We invest in the student-athlete in most aspects of their lives, and we spend our time and energy building a culture of dedicating their time in the off-season to working hard in preparation for the season and playing at the next level if they choose to do so. I like to think that we are teaching 'life readiness' and spirituality to our student-athletes, and it will set a standard for the way they live their lives."
For softball Coach Kristy Hubbard, encouraging players to be their best has paid off. "The Mount Paran Christian softball program continues to strive for excellence," she says. "It has been a blessing to watch the girls work so hard to achieve their goals." Coach Greg Giles echoes that sentiment, saying of the team, "I inherited a talented group of softball players, but, more importantly, a group of players who, from the beginning of our practices, demonstrated a strong desire to work hard, support each other, buy in to our coaching style, and never quit until they reached their goal of getting to Columbus for the State playoffs, ultimately winning the State Championship."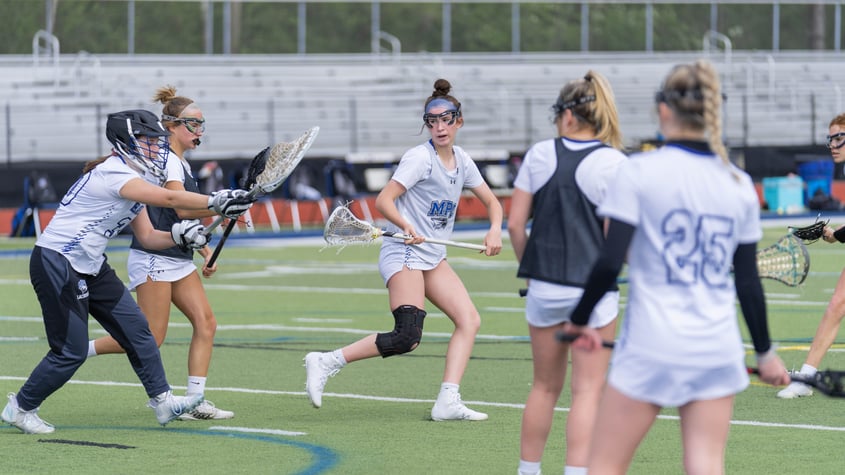 Countless Lady Eagles have earned rings in multiple sports and no doubt will continue to pursue excellence on the field or court, which translates to the classroom. Head volleyball Coach Selina Chancy shares, "Female athletes have a commitment to excellence in everything they do. They commit to excellence in the gym, on the field, in the workout room, in the classroom, in their friendships, in their relationships with their families, and in their communities. They truly understand what it means to be a family united in Christ, and this familial unity is what sets these teams apart. They support and love each other year-round." This type of commitment by these girls, coupled with the investment by their coaches, is the formula that wins championships. They are rising to the top, and it matters.
---
Tiffany Westbrook is the Director of Marketing and Communications for Mount Paran Christian School. Amber Irizarry is the Communications Content Specialist for MPCS.
Curious about Mount Paran Christian School's championship sports? Click here to learn more about our athletics program.