What's new in middle school science? STEAM collaboration and research through interdisciplinary subjects. Not only are MPCS students grasping difficult concepts in mathematics and physical science, they are having fun while doing it.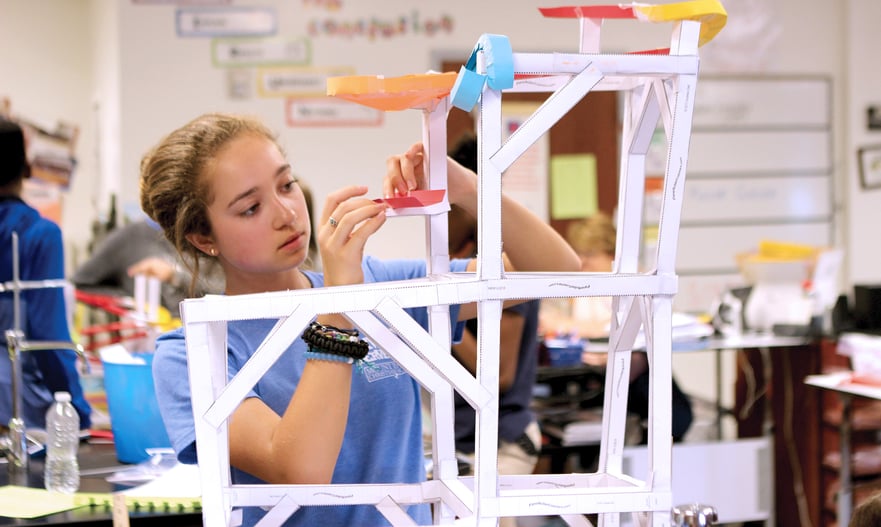 Designing a Roller Coaster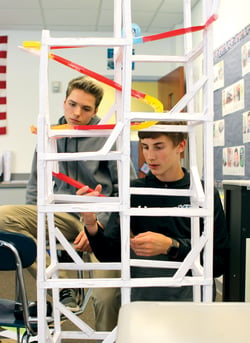 Eighth-grade teachers Mrs. Andrea Reid and Mrs. Ashley Cochran joined forces to conduct a collaborative unit involving physical science and math. The students were instructed on kinetic energy and potential energy for science objectives. In math, the students had previously been instructed on multiple concepts and use of the Pythagorean Theorem to find the hypotenuse of a right triangle. The students were given templates and LOTS of card stock and tape and given some instructions on how to build a roller coaster.
The students had to formulate and build the coaster designs, then test them to discover which size marble would give them the fastest ride. Each group created a theme for their ride and decorated it. When the project was complete, students used appropriate formulas to calculate speed, kinetic energy, and potential energy for their marble. Groups had to show work for three of their right angles to prove or disprove if each was completely square.
Rising to the Challenge
After this unique project, students gave teachers great feedback on the challenge. They learned how to apply concepts taught in the classroom to real-life engineering and construction. Understanding how school applies to life gave them some valuable insight. Eighth-grader Oliva Baute said, "I enjoyed working with other people that I don't normally hang out with. I was surprised to discover all the science and math that is involved in designing a roller coaster." The teachers were amazed at how engaged each student was during the collaborative unit. Mrs. Cochran stated, "Every student had jobs and all were working diligently during the assigned times. Some students even came in before and after school to work on their projects to make them better."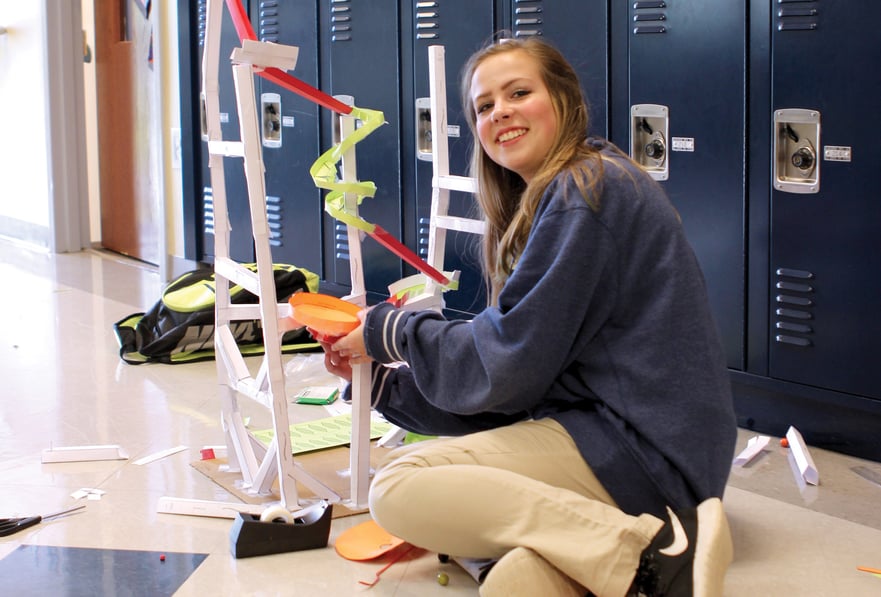 Both students and teachers summed up this hands-on STEAM project: "This was an awesome experience." MPCS will be diving into many more project-based learning units in all grade levels as part of our emphasis on innovation in the classroom.
Andrea Reid serves as a science teacher at Mount Paran Christian School.
---
To learn more about academic rigor in a Christ-centered environment, please click here.