How does a growing high school — with 450 students learning in a space originally designed for just 250 — plan for a building expansion that captures the imagination of its community, while also implementing thoughtful design to prepare students for a 21st-century education? Mount Paran Christian School asked this very question as the school undertook the seemingly insurmountable task of creating a new, purposeful educational facility that would house radical spaces to learn, test, collaborate, and grow. The process for designing the new Murray Innovation Center was itself an unconventional exercise, with key takeaways that other schools and organizations might not consider before embarking upon large-scale initiatives.



OPENNESS TO THE EVOLUTION OF DESIGN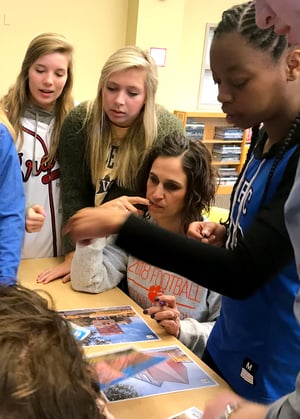 In 2003, MPCS moved to our current 68-acre campus. At that time, the high school community consisted of 138 students. Knowing that we would soon outgrow the Dozier Hall high school building, MPCS planned for a future high school expansion from the outset of our 12-year, multi-phase Imagine Tomorrow Capital Campaign. But, the expectation of what that high school expansion would include has most definitely evolved since the first phase of the capital campaign began in 2007.
With today's technology and STEAM-related industries booming, it has become clear that students must be equipped to tackle real-world problems. Critical thinking, creativity, collaboration, and communication are the required skill-sets to ensure future success for this generation upon graduation. MPCS found ourselves faced with a change from our original need for additional classroom space. We considered adding an additional two-story wing to the current high school, with the perfunctory desks in rows with the traditional teacher-at-front layout. However, as we invested more into our professional learning as educators, we soon realized that changes in the focus and delivery of education — from program additions like STEAM classes and robotics to new teaching formats and learning styles — necessitated a change in design-thinking. To paraphrase poet and author Maya Angelou, we now "knew better, so we will do better."
No original idea was too precious to be discarded if we found it was no longer in the best interest of today's learners. MPCS dropped the initial plan of a simple two-story addition. We embraced that the social and emotional needs of our community are just as important as academic programming. We recognized the evolution of student learning, which has informed and influenced design changes, resulting in the new Murray Innovation Center.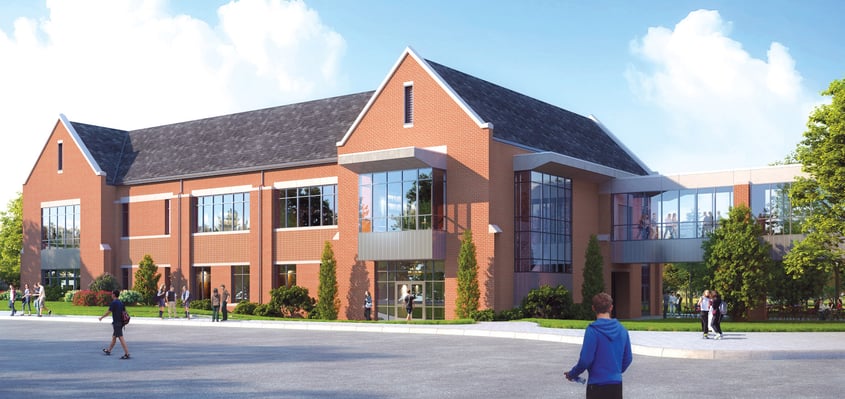 COMMUNITY ENGAGEMENT ENHANCES COMMUNITY-BUILDING
The innovation process requires collaboration: hands-on tinkering, exploration, and presentation. MPCS, widely recognized for the strength of our school "family," wanted to engage all facets of our community in our approach to design. In practicality, this included a student-led space utilization study; focus groups to discover the needs/wants and likes/dislikes from teachers, administrators, students, parents, alumni, and board members; and a program analysis of current space needs/utilization with a projection of future class offerings/programs. We developed an initial conceptual design that was floated within our community to gain additional feedback. Finally, after years-long discussions, we were ready to implement the design-construction phase of the process.
MPCS has taken the great feedback from every facet of our community and enlisted the expertise of a local architect and construction firm. We have winnowed all the design ideas and suggestions, resulting in a final design plan that addresses the needs of all our constituents. After considering building placement, value engineering (budget), and innovative spaces at corporate headquarters and other independent schools across the country, MPCS developed a list of "must haves" within the classrooms. The result is a final design that reflects the school's core values and achieved buy-in from our community, evidenced by the generous support of those who believe in the amazing things God is doing at our school. The new Murray Innovation Center's fundraising goal was reached before the building has even broken ground.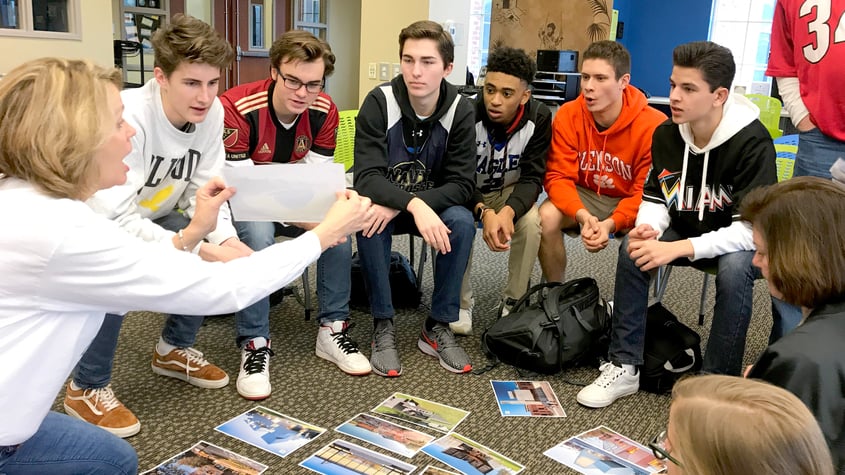 KEEPING VALUES AT THE CORE OF THE CONSTRUCTION
In support of our mission to unite with home and church to prepare servant-leaders to honor God, love others, and walk in Truth, MPCS is founded on four core values. MPCS is Christ-Centered, Learning Focused, Community Oriented, and Pursuers of Excellence. These core values are reflected in the final building design of the Murray Innovation Center.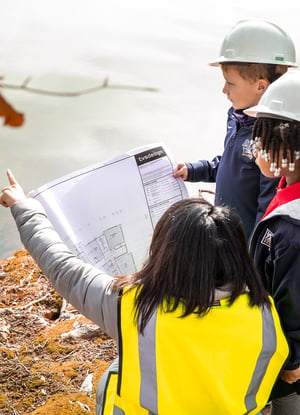 Christ-Centered: During the student focus groups and fireside chats, we asked students to create sketches, images, and illustrations about their prayers for the new high school addition. The overwhelming response was that students wanted a design that captured the natural beauty of the MPCS campus. Students hoped for a design that would allow for more natural light in classrooms, for relaxing vistas of Lake McDonald, for a student quad that could be used for discipleship gatherings, fellowship, and other social events. Students also requested to have locations throughout the new building where they could be mentored by a teacher, have a small group meeting, or host a time of prayer. The final building plan has kept the needs of our students at the forefront with a design that achieves all of these worthwhile Christ-centered opportunities.

Learning Focused: As an academic space, being learning focused is of course central to the building's design. Upon entrance to the Murray Innovation Center, visitors will immediately see the Roost, a cafe run entirely by the high school entrepreneurship classes. The class and cafe is a result of the student fireside chat "dreaming" sessions, whereby students drafted a business plan, borrowed funds from the high school administration, and launched the coffee shop in the fall of 2019. Because of this student-led venture, we have added and refined course programming in personal finance, business management, marketing, and entrepreneurship. The top floor of the Murray Innovation Center offers four additional classroom spaces and two new science classrooms/labs with flexible furnishings that allow for various configurations based on the day's lesson. There will also be a collegiate-style, technology-enhanced classroom, which will allow students to work in collaborative groups at tables with their own dedicated monitors. The setup allows for screen sharing and can "capture" the work of teams for group presentations. Teachers can record the entire room and webcast guest speakers and visitors. The heartbeat of this design is to offer stellar learning spaces.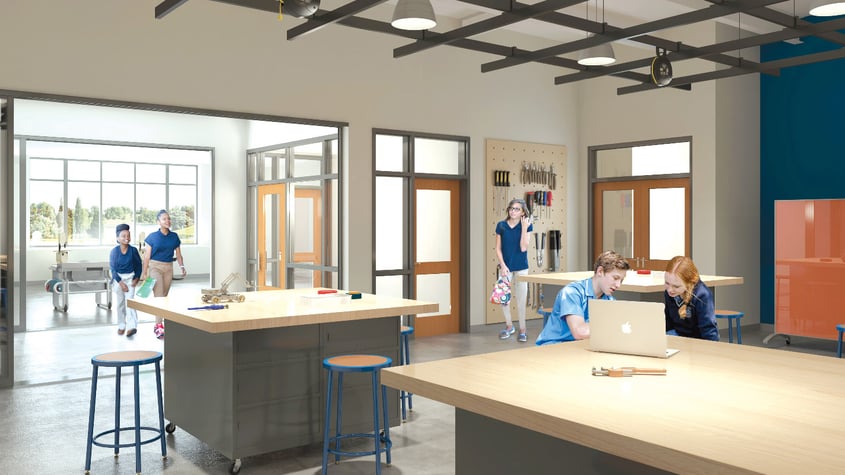 Pursuers of Excellence: The lower level of the Murray Innovation Center will offer a state-of-the-art digital lab, a maker space, and a fabrication lab, which will prove useful to students in our AP Computer Science, Computer Science Principles, and Project Lead the Way

®

courses in Introduction to Engineering and Principles of Engineering. The goal is to offer a robotics course during the school day, as well as outfit our two robotics teams with the proper equipment and space to further their State championship win to a future "World" title. The maker space will be accessible to our entire faculty for projects and hands-on learning experiences for any content area, and our digital lab will allow us to leverage additional platforms in the realm of artificial intelligence and virtual reality. Having these innovative spaces allows our community to pursue all that we do with excellence.

Community Oriented:

The overall flow of the new building was designed for the express purpose of creating connection opportunities. The commons area, including the Roost, will become the hub of the high school as a place for small groups to meet to work on a project, study, pray, and share life. The quad area will be bustling between classes and will be home to impromptu gatherings and school-wide events. Part of our goal with the design is to create a space that can be used after school hours by our entire MPCS family. Our desire to be

community-oriented

is highlighted in these common spaces.


By engaging every stakeholder in the design process — students, teachers, parents, board members, and industry experts — and keeping core values at the forefront of every decision, MPCS challenged the familiar, infusing new ideas, reimagining the design, and employing innovative strategies for teaching and learning. The result is a final building plan that will fulfill the dreams and needs of students and teachers, both now and well into the future. It is our earnest prayer that we have pursued excellence in this design process and, while doing so, have brought the ultimate glory to God.
---
As Chief Development Officer, Jennifer New has served on the Imagine Tomorrow Capital Campaign that raised $31.7M for three major campus projects including the Murray Innovation Center. Tawanna Rusk is the Head of High School and Assistant Head of School and has worked through the design process to ensure a customized final design would be all that her students/faculty have imagined.
We invite you to learn more about the Murray Innovation Center. For more on innovation at Mount Paran Christian School, click here.