Real classroom innovation at Mount Paran Christian School starts from within; from the open hearts and minds of the teachers, students, parents, and school leadership. Never has this been more true than during the 2020 academic year, when the coronavirus pandemic put the innovative practices of MPCS to the test.

"NORMAL" NO MORE
In the spring of 2020, the world awoke to uncertainty and unfamiliarity, where normal routines were greeted with business closures, along with new rules and health and safety guidelines. MPCS students left school on the afternoon of Thursday, March 12, 2020, with a few extra books and school supplies. They "returned" to school the following Monday morning, this time online. Students were joined by teachers who had been preparing exhaustively over the long weekend to ensure that learning continued for their students.

Rather than being frozen in fear, the MPCS community united in their trust in the Lord, taking hold of the talents and tools surrounding teachers and students to create a new normal and to finish the spring semester. In the span of a weekend, MPCS transformed from a brick-and-mortar institution to a school of Virtual Learning, all while maintaining its Christ-centered identity of providing academic excellence.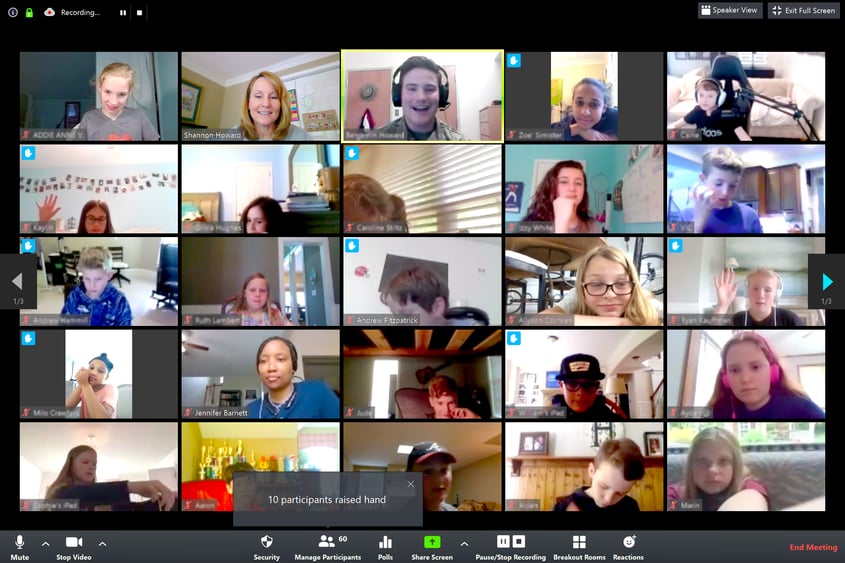 A TWENTY-FIRST CENTURY EDUCATION
The four "C's" of a twenty-first century education — critical thinking, creativity, collaboration, and communication were on full display with all that MPCS was able to accomplish, with minimal disruption to student learning. There were learning curves, of course, along with moments of frustration when wi-fi connections did not cooperate. Still, MPCS staff and families remained vigilant, knowing that everyone was doing their best to ensure that students continued to move forward with their learning.


Faculty rose to the challenge to finish the school year strong. Using software and applications through the already-established middle and high school 1:1 devices as part of the Connected Learning Program, teachers did not miss a beat in continuing the curriculum that was planned. Students logged into Zoom meetings or Google Meet classes during the school day for live instruction. Google Classroom became the repository for most student information and resources. Preschool and lower school teachers provided manipulatives and supplemental work activities in a weekly exchange program, while parents in select grades submitted completed work through the SeeSaw app. Pre-established personal connections and relationships made tuning in virtually much easier, yet they all missed their in-person activities and hugs.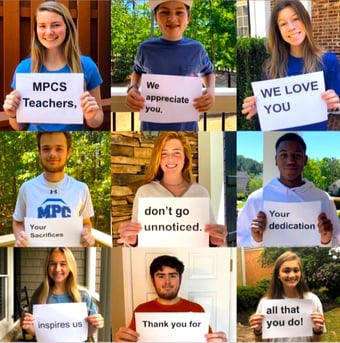 The MPCS family engaged through daily video devotions and streaming nights of worship. Parent conferences and staff meetings took on a new look through the ease of Zoom. Special events were reimagined, such as the first-ever Virtual Middle School Talent Show and the live-streamed senior graduation. Weekly chapels - though now virtual - continued without missing a beat. Evening story time sessions provided a fun way for families to close out their day with surprise mystery readers.
Though the community was not on campus, they were together. One parent described the virtual learning experience this way:
"I have three children in three different [MPCS] schools; therefore, I am seeing three approaches to Virtual Learning. I must say that MPCS has impressed our family with how smoothly you have transitioned and staying organized. The teachers have calmed and comforted my child, and the quality of education has not wavered. We are so proud of MPCS and the effort that you have taken to be prepared for this surprise event." —MPCS parent of three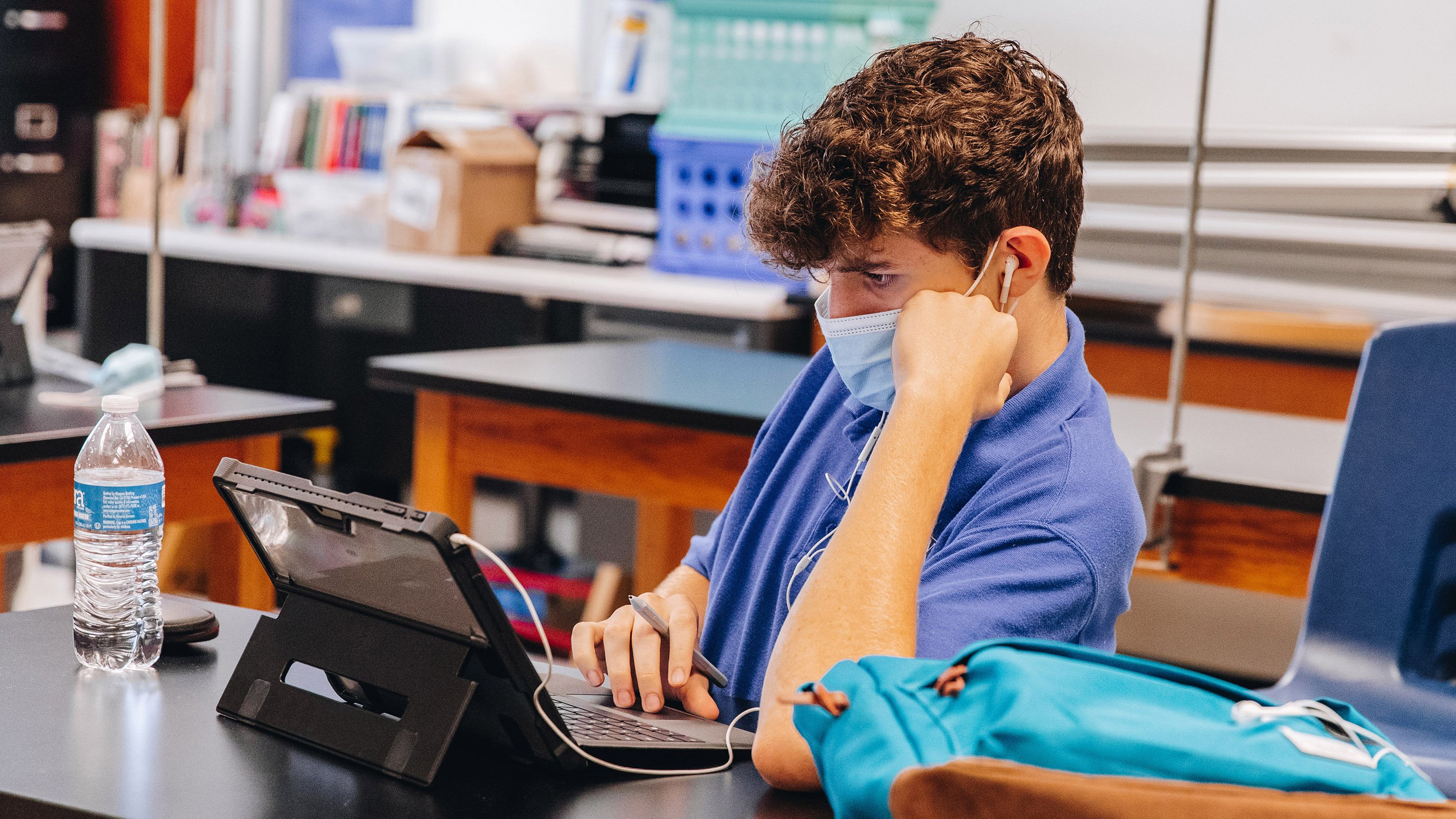 NEW YEAR, NEW PLAN

Determined to bring students on campus safely for the start of school in August, school leadership and staff again utilized the four "C's" to define a new normal for school, ensuring that students would have the option to either return to campus or attend school virtually, even for a time. Families had the choice to begin virtually in their actual classes so that a transition back to campus could occur seamlessly when ready. The option also allowed for temporary learning at home while in a short quarantine.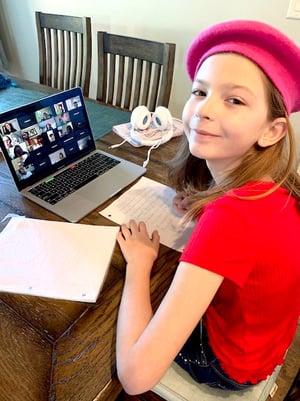 To allow for synchronous instruction for at-home learners, classrooms are now outfitted with an extra Microsoft Surface computer that serves as the Zoom/Google Meet host, in addition to tripods and microphone/speaker devices. Several classrooms offer new Lumens cameras to aid and enhance instruction for succinct streaming. Teachers tirelessly worked extended hours to plan lessons that both respect the need for physical distancing and allow for appropriate and necessary student interactions — interactions that are critically important in children's intellectual, social, and emotional development. Another parent described their child's experience this way:
"Thank you all so much for your dedication and hard work to ensure that there is a bit of 'normalcy' through education during this unprecedented time." — Lower School Parent
For added on-campus health and safety, Mount Paran Christian School researched and invested in the Synexis microbial reduction system, a state-of-the-art air-treatment system that uses dry hydrogen peroxide technology to kill germs in the air and on surfaces. Every classroom continues to receive daily fogging with EPA-approved equipment and products, while the MPCS operations team provides diligent and methodical cleaning throughout the school day. Ultraviolet cabinets have been placed strategically throughout the lower school so that student devices and materials may be routinely disinfected. An electronic dismissal program was purchased and implemented at the start of school to allow for lower and middle school students to remain cohorted in classrooms to maintain physical-distancing protocols during end-of-day dismissal.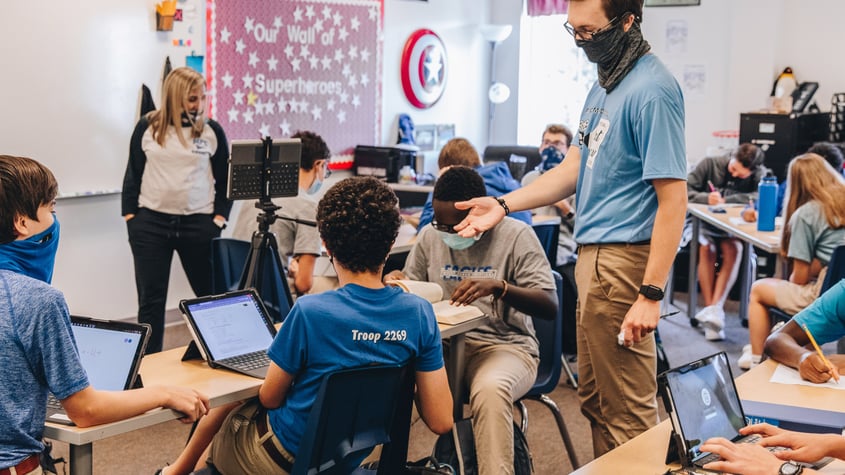 CONTINUOUS REIMAGINING
Though face-to-face instruction has returned to MPCS, creativity and innovation have not stopped. School leadership continues to identify ways to safely ensure community and fellowship opportunities for students and families. The strength of the MPCS family is its unapologetically Christian faith and commitment to academic excellence. The MPCS faculty and staff exemplify what it means to be innovative in this ever-changing situation by trusting the Lord and collaborating with each other to develop the most innovative solutions to the many challenges that surround us. We are thankful for the Lord's protection of our school, reflected in the feedback from our parents:
"I would just like to thank the administration and faculty for going above and beyond during a very difficult time. I have two high schoolers, and their transition was seamless. Thank you for all the hard work and prayer that all of you have put into this crazy season. We are praying along with you! Thanks again." —Stephanie Mathis, MPCS High School Parent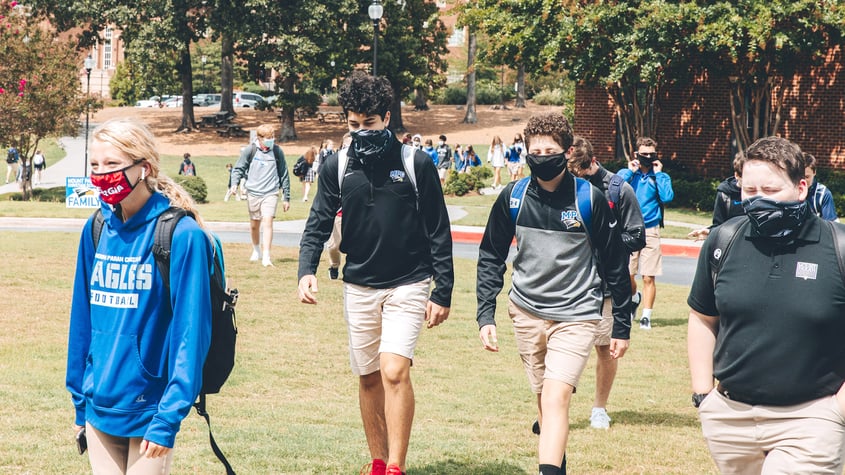 Trust in the Lord with all your heart and lean not on your own understanding; in all your ways submit to Him, and He will make your paths straight. -Proverbs 3:5-6
---
Tina Baker serves MPCS as Lower School Administrator and Lower School Technology Specialist.
Click here to read more about more about the Connected Learning Program and academics at MPCS.