Welcome to Y'allywood! The state of Georgia has become a booming location for the entertainment industry. Building on its long history as a musical powerhouse, Georgia has become the undisputed "Hollywood of the South," with film and television generating billions of dollars each year - an astounding $9.5 billion in 2018, according to the Georgia Department of Economic Development. The economic impact extends even further when considering the thousands of jobs that are created as a result of the Georgia entertainment industry. This is due, in part, to one of "the most competitive tax incentive programs in the country, along with a broad network of production and recording facilities, a large and skilled workforce, the latest production equipment and suppliers, gaming and interactive media developers, and technology and support services."
This skilled workforce is being trained at schools across the state. While it is unusual for a K-12 school to have a recording studio, an increasing number of high schools and career centers in America are creating audio education programs to give students a head start on entertainment-centric college curricula and careers.

THE SOUNDLAB EXPERIENCE
At Mount Paran Christian School, the LeFevre SoundLab is a recording studio located within the Murray Arts Center (MAC). The SoundLab contains a treasure trove of high-end audio equipment that leaves many audio professionals in awe. It is unlike any studio in the country, distinguished by an arsenal of technology, combining vintage analog processing with the latest digital plugins and an extensive microphone collection. The focal point of Control Room A is the Solid State Logic Duality Delta™ console, one of only two in the country owned by a high school. The Duality's innovative hybrid approach combines a traditional analog signal path and processing with exceptional Digital Audio Workstation control and integration, all within a single hardware surface. The studio's second control room has recently been repurposed as a mastering suite with an SSL AWS 900 at the center of it. The studio is able to record performers not only within the studio walls, but also in several locations throughout the Murray Arts Center.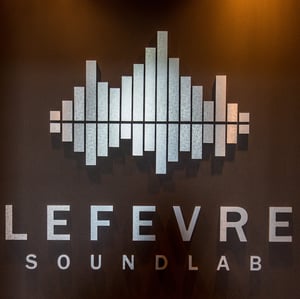 The extensive amount of high-quality equipment in the LeFevre SoundLab allows MPCS students to learn on gear that is better quality than what many university programs can offer and is beyond what many professional environments utilize. If an MPCS student wants to record their voice on a Sony C-800G microphone (MSRP: $12,099.99) and process it through a classic 1176 compressor (acquired from The Hit Factory in New York City), then mix their vocal in 5.1 surround sound, they can! The students are quite literally using equipment that was likely used to record and mix artists including Stevie Wonder, Paul Simon, John Lennon, The Rolling Stones, The Eagles, U2, Frank Sinatra, Michael Jackson, Coldplay, and Barbara Streisand. Through the Audio Engineering Society, the LeFevre SoundLab has also become a testing ground for new digital plugins that enable students to utilize the latest developments in audio manipulation.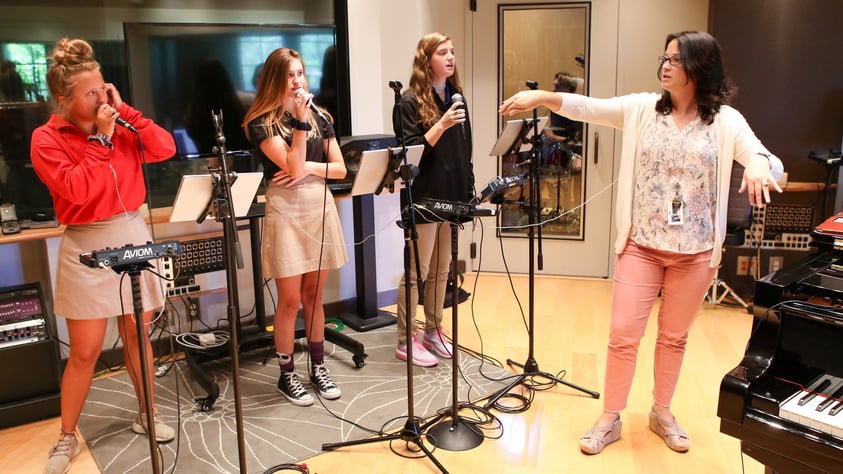 MORE THAN EQUIPMENT
If anything sets Mount Paran Christian School's Arts department apart more than the facilities within the MAC, it is how school leadership has empowered students to take advantage of the space to prepare for their future. In addition to the traditional opportunities of pursuing music through band, choir, and orchestra, the commercial music program allows students to explore music theory, songwriting, audio engineering, and the entire process of recording and producing music.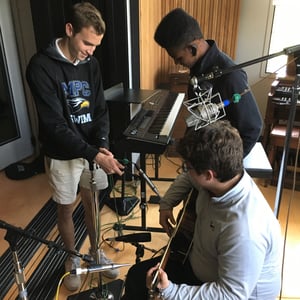 Currently, four classes are scheduled in the studio during the eight available class blocks. There are two high school chapel bands that use the space for rehearsals, learning worship music, and preparing to lead the student body during weekly chapels in the Kristi Lynn Theatre. The "Intro to Studio Recording" class teaches the basics of how sound works, what tools are available to control and manipulate sound, and how to operate Pro Tools, the industry-standard software for audio recording and mixing. The "Intro to Audio Production" course focuses on utilization of the studio by requiring students to "hire" each other to perform different roles in the creation of their projects. In addition, "Intro to Songwriting" also uses the LeFevre SoundLab for their semester final project, and students take independent study courses to continue honing their skills and generating material for their portfolios. Several music students have also recorded their musical performances for concerts and college auditions in the studio.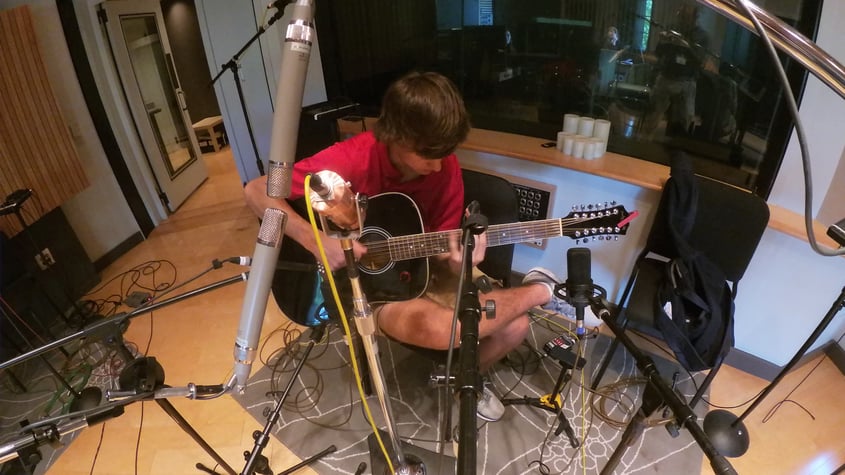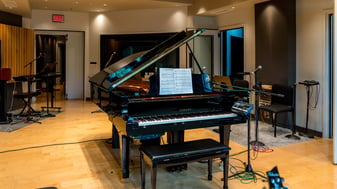 Through the commercial music program and the MPCS alumni internship program, several students have published music or pursued continued education in the field of audio. Alumna Megan Davis, who worked as an intern in the MAC for multiple seasons, recently completed her education at The Conservatory of Recording Arts and Sciences and is working on multiple projects designing sounds for video games. Alumni Andrew Barton, Sydney Chambley, and Cash Powell, who all completed the MPCS commercial music curriculum, teamed up and published a song they wrote and recorded called "Infinitive." Alumna Sam Bruton, who also completed the commercial music curriculum, has published several original songs which have accrued over 28,000 listens on Spotify.
LEARNING OPPORTUNITIES FOR SUCCESS
While the LeFevre SoundLab at MPCS is a one-of-a-kind facility and a real treasure for students to work with, the most important aspect of the space is how it prepares students for the future, while developing their God-given talents and interests. The main impact of the space is that students are gaining real-world, hands-on learning experience that will prepare them for careers within the entertainment industry. And, this learning is taking place in a Christ-centered environment that focuses as much on developing students' love for God as on the academic aspects of learning the equipment. By recognizing the career and industry growth opportunities for today's learners, Mount Paran Christian School is helping students gain the necessary skills for future success.
---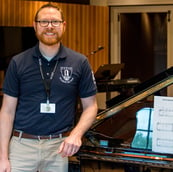 Marshall Young is audio engineer at Mount Paran Christian School. He earned his bachelor's degree in Media Communication at Asbury University and his master's degree in Sound Design at SCAD. His career started as an audio assistant at the 2008 Beijing Olympics. He has worked and taught at a handful of universities, and much of his career has been spent mixing broadcast television, earning him a Telly Award and a Dove Award. He currently is a committee member for the Atlanta chapter of the Audio Engineering Society.
To learn more about gospel legend Meurice LeFevre, namesake of the MPCS LeFevre SoundLab, click here.
For more information about the award-winning arts program at Mount Paran Christian School, click here.
To hear some of the published music of MPCS alumni, click here.