Proverbs 5:21 - For your ways are in full view of the LORD, and he examines all your paths.
As we guide our children through an ever-changing digital world, it is our job to help them learn to be strong digital citizens who act in a godly, Christian manner. Being a good digital citizen is more than being a safe Internet user. We need to unite in support of our children as they learn to be responsible and cautious in their use of technology, and show respect for themselves and others. Due to constantly evolving technology, parents tend to allow children to have access to various technologies, apps, and websites without knowing if they are appropriate. Mount Paran Christian School wants to partner with parents to ensure the safety of our children in this digital world. To this end, we are sharing this blog series in hopes the information will make you more aware of how children are using various websites and apps and how you can monitor their activity.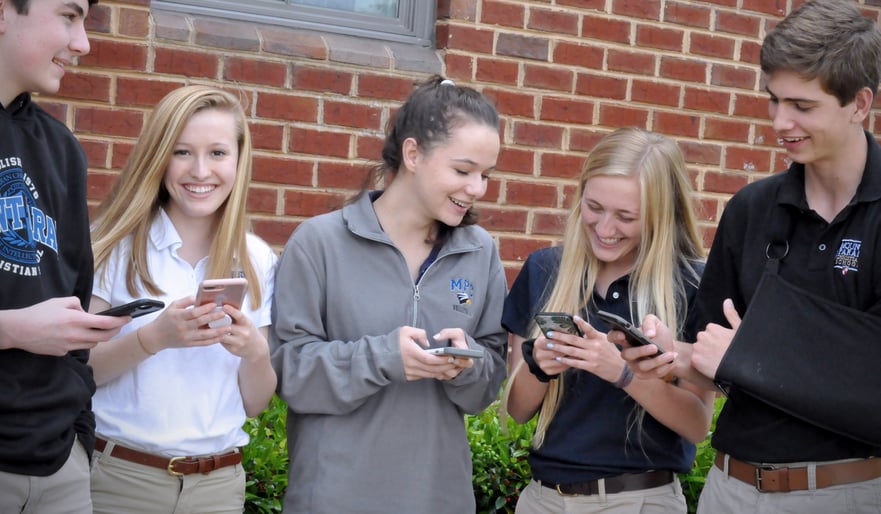 Why discuss social media?
As with all things related to technology, social media is always changing. The Merriam-Webster Dictionary defines social media as "any platform of electronic communication that allows users to share ideas, information, personal messages and other forms of content through online communities." Social media can be a wonderful way to stay connected with others and can be used for numerous positive purposes, such as the sharing of uplifting information between groups, connecting people separated by distance, and even marketing. Our school uses various forms of social media to share the accomplishments of our students academically, artistically, and athletically. While there are many benefits to social media, if not used appropriately, there of course can be negative effects. Without discouraging parents from allowing children to have access to social media, our goal is to educate families so that they are aware of some of the dangers associated with various sites or apps.
What social media do our students use most?
While parents and businesses focus much attention on social media sites such as Facebook and LinkedIn, other social media sites are being used more frequently by our students. Some parents may not be aware that their child has a social media account or may not know what they are sharing online. Currently, three of the most popular social media apps among our students are the following:
Instagram

Snapchat

Twitter
MPCS will focus on these apps in this blog series to keep parents up-to-date on these mediums.
What should parents know about these apps?
Instagram
Instagram is a free photo and video sharing app for users who are supposed to be at least 13 years of age. Users are able to direct message other users, create "stories" using images, and are also able to share their locations when posting to the site. Many young Instagram users have accounts they use as their main account which they may share with their parents. They also may have a second Instagram account, often called a "Finstagram" or "fake Instagram account" they use to share images they do not want parents or other adults to see. These secret accounts are the ones that tend to cause the most issues for young users. The private, locked accounts tend to have only a few followers, those the user feels can be trusted to see these images. While parents feel they are safely monitoring their child's Instagram account, they may not be aware of additional accounts created by their child.


Snapchat
Snapchat is also a free app used to share videos and photos. It is meant for users who are at least 13 years of age. Snapchat differs from Instagram in that the 'snaps' (shared pictures or videos) last for only 10 seconds before they disappear from the phone. A major area of concern related to the use of Snapchat is that users believe that once an image disappears from a phone, the image is gone forever. This is not the case as other users could take screenshots of the image or use another phone to take a picture. These new copies of the images can then be shared with others without the knowledge of the image owner. While they feel the image is no longer being seen, it could be distributed for many others to view.

Twitter
Twitter is a social networking and microblogging app that enables users to send and read "tweets", which are text messages limited to 140 characters. Tweets are public by nature and can be read by anyone (including search engines) and are displayed in list format to account followers. Tweets are quick reads and have limited commenting capability, therefore more for one-sided sound bytes. Photos and videos can be shared on this platform. Comments can be deleted after the fact, but followers can easily have already read or screen-captured images.
Social media apps are constantly changing. Once parents and adults infiltrate one app, teenagers will turn to the next up-and-coming app. Though use of social media is extremely limited during school hours, MPCS understands the importance this media has on our student's lives. For that reason, we will stay abreast of current trends and continue to update parents as newer apps become more prevalently used by teens in our community.

Karen Leonard, Ed.S serves as the Academic Technology Specialist at Mount Paran Christian School in northwest Atlanta, GA.

---

In this age of social media and texting, many teens are missing the basic academic foundations for reading and writing. To learn more about how MPCS is taking on this challenge head on, please click here.