Generally speaking, cheerleading in America is not what it used to be. Questionable dance moves, bare midriffs, cut-throat competition, and trash-talk toward the other team are becoming the cultural norm. Fortunately, there is an alternative: Christian cheerleading. In this world of cheers, "spirit" means the theme is wholesome and the talents and skills of the competitors are recognized as being from God. For many schools, the focus is on self promotion and the "spirit" is completely focused on the accomplishments of the team and individual athletes. At MPCS, the cheer program has a solid focus of investing in the lives of these young ladies for God's eternal purposes.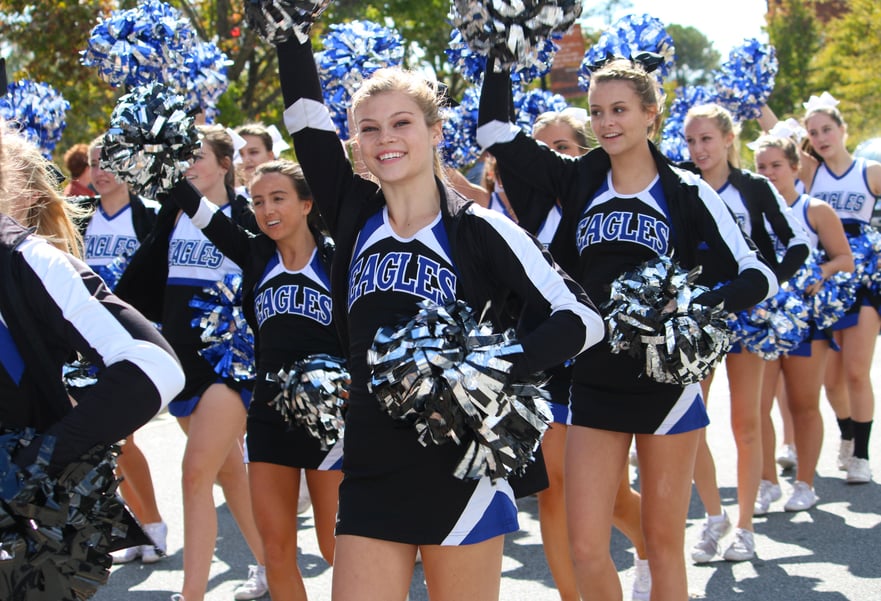 Building a Christ-Centered Cheer Program
Mount Paran Christian School is proud of its cheerleading program, as are most schools. The 54 girls who make up the four high school and middle school squads are on the front lines expressing their faith through what they do, and also by their Christian character. These students perform impressive routines involving highly skilled gymnastics, difficult aerial acrobatics, competitive stunts, and off-the-chart energy — all while promoting school spirit with integrity and excellence. We are incredibly proud of the hard work and dedication of our 2016 private class A State Championship cheer squad who has brought home their fifth consecutive State title. More importantly, we are beyond blessed knowing that we have invested in the lives of young women who are seeking God and long to serve Him.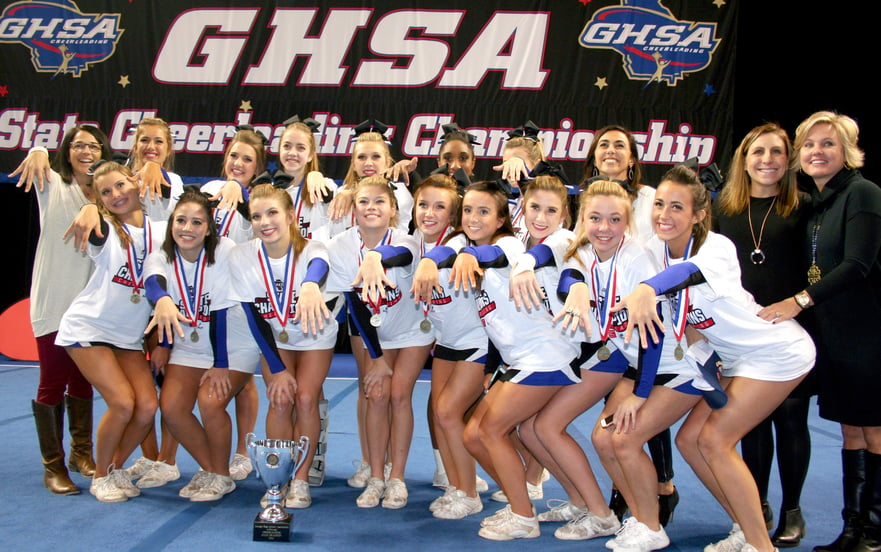 In order to build this type of positive cheer culture, coaches must clearly define the purpose of the program and expectations for their athletes. Coaches should enlist the support of parents to partner with the school to enhance the community. Fellowship of Christian Athletes (FCA) has a competitor's creed that is the cornerstone of the MPCS cheer program. The emphasis is on acknowledging that one's talents, abilities, and sacrifices are all for the praise of our Heavenly Father. Prior to every competition, our cheerleaders take time to have a devotion, pray, and recite this creed. By doing this, the team is able to work through injuries, setbacks, and team dynamics by focusing on God's purpose for each team member. In the heat of a highly competitive season, this cornerstone of knowing your confidence lies in Christ is essential to any form of success. Click here to view the FCA creed.
Christian Spirit Instills Perspective
I recently had time to reconnect with cheer alum, MacKenzie Kitchens, MPCS class of 2014. She attends the University of Georgia as a double major in biology and psychology. She has been cheering for UGA since her graduation from high school. She shared how the cheer program at MPCS impacted her life: "Cheerleading has given me more opportunities than I could've imagined. I have been able to represent my school but most importantly my savior through this sport. As a cheerleader, there are constant eyes on you and what you choose to do with that attention is what's important. Mrs. Paige Johnson, my MPCS coach, instilled a view of cheerleading into me that it isn't at all about me and what I can do. It about a team coming together for a greater purpose." MacKenzie puts her own spotlight into perspective: "An 'audience of one' and having 'God-confidence' are phrases that come to mind when I think about cheerleading. All the state championships and cheering for SEC football games can go to your head if you let it. But ultimately, the best part of it all is interacting with people of all walks of life and sharing with them the joy you have because of the Lord! I am thankful for all the opportunities I have had through cheerleading and look forward to the ones ahead!"
The Spirit Challenge
In the increasingly competitive sport of cheerleading, it is essential that schools intentionally teach and instill true spirit; the purpose of which is to reach others for the glory of God. We would like to challenge other schools, public and private, non-denominational, secular, Catholic, and all walks of faith, to also lead in this effort to put the "spirit" back in cheerleading across America. This can start with the coaches, volunteers, or young athletes, but it takes all working together to ensure this wonderful sport continues to be positive and uplifting. This method can surely showcase the talents and skills these young ladies are capable of, with excellence that only comes from the "spirit." We welcome other school cheer programs to contact us to continue the discussion of how we join together to showcase the incredible talent of these athletes and impact our communities for the greater good.
Tawanna Rusk is the Assistant Headmaster and High School Head of Mount Paran Christian School and former varsity cheer coach.
---
To learn more about the Christian cheer program at MPCS as well as other Christ-centered sports that are offered, click here.