I am often asked to capture what sets MPCS apart from other educational settings. At times I find it difficult, not only to place into words the feelings and personal connections we have with our students and parents but also to comprehend how critical our Christian curriculum is to the spiritual foundation of our children.


Reflecting on the School Year
Each year, our graduates go on to attend some of the finest institutions in the country, such as Georgia Tech, Duke, Wake Forest, Georgetown, UCLA, and UNC-Chapel Hill to name a few. Our goal at MPCS is to not only provide the academic rigor needed for selective college choices and scholarships, but also the Christian foundation to withstand the culture, defend their faith, and bring people to Christ.

Over the course of their high school years, our students invest countless hours in studying and applying Christian disciplines. Students are immersed in the old testament and new testament before entering a study of apologetics, and their high school career culminates with a study of Romans and learning how to apply this knowledge to their daily lives.

Recently, I was blessed to read an e-mail sent by one of high school Bible curriculum teachers, Mr. Scott Minear, to parents of this year's class: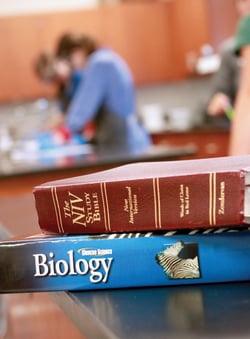 "You did it! Congratulations on encouraging, guiding, and sometimes pushing your students through their junior year at MPCS. Today and tomorrow students will be tested on the comparative religions material. During the unit we've discussed the problems with religious pluralism (why all religions can't be true), general apologetic approaches we can use when we interact with adherents to other religions (capitalizing on common truth and experiences to build a bridge to the gospel), and how to refute the objections of Islam in the context of relationship."
"As always, I encourage all of you to talk to your students. Learn from them, and expand their knowledge by sharing your own insights. There is so much more I'd love to teach your students, but I've succumbed to the steady progress of time. So I challenge all of you to take the torch because I'm handing it off to you. I pray your families will continue to grow in faith and be equipped to be effective witnesses for the gospel of Jesus Christ."

"It's been a privilege, a blessing, to teach all of your students this year. The joy I've experienced getting to know the juniors and see them learn how to defend their faith cannot be expressed. I am overwhelmingly thankful for God's provision of this opportunity, and for preparing a place for me here within the MPCS family. Thank you for accepting me and trusting me with your students' education."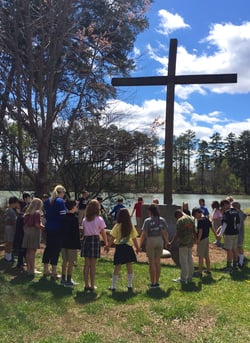 Mr. Minear's comments capture what differentiates MPCS from every other school. Both through our faculty's investment and our partnership with parents can we instill the Truth and knowledge from God's word in students from this generation.
Christian Immersion in Education
In addition to the in-depth study of Bible as a course, students participate in weekly chapels, small group Bible studies, mentoring opportunities, missions, and service projects. Each varied experience offers a new lens in which students can leverage their gifts and talents. The partnership between our families and staff to encourage, nurture, educate, and mentor our students is a complete blessing. I can attest as a parent of two MPCS alums that the intentional focus to point students to a life that honors Christ will result in them working to achieve academic success, healthy friendships, and a calling on their life and career path.
---
Tawanna Rusk is the High School Head at Mount Paran Christian School. She also serves as Assistant Head of School.
To learn more about how faith is constantly nurtured in students at all levels through Christian Life at MPCS, please click here.